SOFT MACHINE LEGACY Steam Moonjune MUR016 (2007)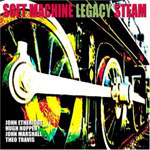 'Legacy Steam' is an interesting title for a band that has just marched past its 40th anniversary. By simply deconstructing the title you come up with the notion of 'Legacy' as referring to carrying forward the traditions of the bands music with elements of fusion, prog, and neat uses of loops to offer a partial return to its Canterbury psychedelic explorations of the late 60's. 'Steam' on the other hand presumably represents power and forward motion, and when you combine the two, 'Legacy Steam' is a fully justified title for an album that is full of enough inventive playing, open ended improvisation and a continuum born of well thought out structured pieces that allow this sparkling quartet to flourish.
The current Soft Machine line-up relies on the rock solid rhythm section of lyrical drummer John Marshall, inventive bass player Hugh Hopper who also deftly used loops to fill out the sound and in effect take the place of keyboards. Guitarist John Etheridge has for years been a superlative player seemingly without a fixed musical abode, but in this line-up his meticulous and beautifully toned lines fit perfectly alongside the multi horned explorations of Theo Travis, who also weighs in with some live mixed horn loops.
'Legacy Steam' opens with 'Footloose' on which Travis's initial exploratory horn lines gradually give way to Etheridge concise soloing over John Marshall's muscular drum pattern and Hopper 's repeated bass lines. It's the kind of warm up number that immediately suggests this is a band that is itching to push the parameters and yet is disciplined enough to show enough restraint to allow the song its thematic development.
The following brace of songs Theo Travis's 'The Steamer' and a group effort 'The Big Man' pursue jazz rock grooves and horn and guitar sonic explorations respectively. The challenging sonic possibilities born of improvisation and live studio loops are further explored on the band composition 'So English'. But on 'The Big Man' there is a mighty rhythm track underpinning the song which carries a beautiful sound palette to its logical crescendo. The thunderous piece is neatly juxtaposed with a reprise of Mike Ratledge's 'Chloe & The Pirates' from the early career Soft Machine, on which Theo prises out a beautiful melody line over repeated loops and Hugh Hopper's most delicate of bass accompaniments and crisp cymbal work from Marshall.
Etheridge adds his most delicate notes and works the dynamic with a Zappa style flourish, exploring the tonal possibilities of his notes to the full. It's a truly inspirational piece and perhaps a timely reminder that the band's legacy is not only firmly in place but is being superbly emulated by this impressive contemporary line-up.
Above all the song writing is spread across the board with both solo and band efforts all delivering high levels of consistency worthy of the album title, although the one rhythm section composition 'Firefly' though bright and breezy ultimately founders on an overly familiar riff and an inevitable drum solo which gives it a retro feel.
In conclusion 'Legacy Steam' turns out to be a pleasant surprise, offering enough new ideas, great playing and a neat balance between fusion and the free form explorations of tracks like 'Dave Acto' to suggest that this album is the logical conclusion of 40 years of the band's musical history. In saying that the current Soft Machine had much to lose by this project, but happily 'Legacy Steam' admirably lives up to its name, utilising a rich musical history to bring contemporary reward.
The closing Theo Travis penned 'Anything to Anywhere' is a joyous celebration of everything that is good about the band from its impressive opening horn motif to a killer guitar solo and some tight ensemble playing that carries the piece to its logical conclusion. Lovely stuff!
****
Review by Pete Feenstra
---
| | |
| --- | --- |
| | Print this page in printer-friendly format |
| | Tell a friend about this page |