When dinosaurs ruled the earth...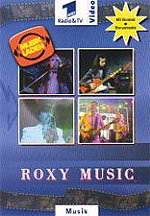 You have to laugh. The advance copy of this DVD is the German issue which comes branded as 'Ard Video'. For a brief moment, I thought I'd been sent some German hard core XXXX to review. Unfortunately, not.
But it is, in fact a great little DVD catching the classic Roxy line-up at their peak and before Eno took the hump. Recorded live, in front of a studio audience at the legendary Muslikladen Studios in 1974-75, call it what you like - artrock, progrock, it's just damn fine and a reminder of why the group were so iconic, before all went a bit, well - Bryan Ferry.
All the classics are here - Virginia Plain, Do The Strand, Edition Of You, Street Life, Pyjamarama, All I Want Is You and more. Ferry hams it up in his white suit, while the rest of the band glam it up. But it's a great reminder, that despite their singles success, Roxy were a great rock band. And where they stretch their wings you get some great playing from Eddie Jobson, Andy Mackay and Phil Manzanera.
You also get a couple of mimed promo 'videos' for Over You and Oh Yeah.
And that's what nice about this archive material, it's not overproduced and, OK it may be a bit dated, but it takes you back nicely to the 1970's, to a time when dinosaurs ruled the earth and rock was, well, classic. Now what could be better than that?
****
Review by Pete Whalley