ROXANNE POTVIN The Way It Feels RUF1128 (2007)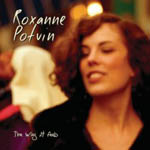 'The Way It Feels' is an apt title for an artist who eschews any sense of the stylistic mainstream to record an album that is full of soul, jazz, roots and blues influences. In short, the art of the song is paramount, and if the album has to take in a bewildering amount of styles to accommodate her muse then so be it. More surprisingly still is that having made such a big impression with her contribution to the hard hitting 'Timebomb' album, as a sassy singer with real presence, this album is far more laid back and by contrast is almost circumspect.
'The Way It Feels' opens with a brace of soul influenced efforts. 'A Love That's Simple' is a soulful duet that is right out of the Marvin Gaye/Tammy Terrell mould complete with measured horn parts. 'I Want To (Do Everything For You)' is in a similar 60's soul vein, complete with a lovely retro guitar solo and works well if only because it's one of the tightest arranged pieces on the album. And yet after such a strong opening, the album meanders in and out of focus. And while Roxanne is best on plaintive ballads such as the heartfelt 'Hurting Girl' and 'Don't Pay Attention' her forays into other territories aren't always as impressive.
Thus while the New Orleans feel of 'Caught Up' benefits from a polished production a lot of the rest of the album might curry favour with say Norah Jones fans but will be of limited appeal to blues fans.
'La Merveille' is a brave attempt at a Gallic love song and 'Your Love Keeps Working On Me' is more impressive, with some passionate vocals over a repeated guitar motif, but the gospel outing 'Say It' is less than memorable with some annoying bv's and a thin vocal line.
And while it is a pleasant change to come across an artist prepared to mine the more retro elements of her genre, especially on the soft shoe shuffle of 'Sweet Thoughts of You', I personally would have preferred something less derivative and more representative of the real Roxanne Potvin. Hell, life is full of opinions, and mine is that having got this album out of her system Roxanne Potvin might venture to undertake something a little less languid and a dash more adventurous. But as the delightful piano led title track suggests, she plays it 'The Way It Feels'!
***
Review by Pete Feenstra
While I Wait For You
© 2007 Ruf Records. All rights reserved.
---
| | |
| --- | --- |
| | Print this page in printer-friendly format |
| | Tell a friend about this page |