ROLLING STONES Rolled Gold + UMTV/ABKCO Music (2007)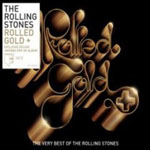 Rolled Gold plus, as suggested by the title, combines the original 1975 release with 12 bonus tracks from the same era.
Although 2002's '40 Licks' covered all eras of the Stones career, this 40 track collection concentrates on the 1963-1971 period- a time when the band were at there most iconic and prolific, producing such masterpieces as 'Gimme Shelter', 'Jumpin' Jack Flash', 'Sympathy For The Devil', 'Brown Sugar ' etc (and let's not forget '(I Can't Get No) Satisfaction' a song without which there would be no complete Stones collection).
The inclusion of 'She's A Rainbow' ties in nicely with the use of the track in the current high profile Sony Bravia advertising campaign, and it is also worth noting that early hits such as the covers of Chuck Berry's 'Oh Carol' and Howling Wolf's 'Little Red Rooster', along with the Beatles penned 'I Wanna Be Your Man'- although omitted from the afore mentioned '40 Licks' collection, are included here.
The running order on the 2 discs almost follows the band as they evolve from a decent R n' B group, through the mantle of pop group and on to their status as rock legends, 'The World's Greatest Rock n Roll Band'.
The full track listing, as below, runs chronologically and the CD packaging is set to include extensive liner notes and a track-by-track breakdown.
With the band likely to start touring again in February, and Martin Scorcese's 'Shine A Light' documentary involving the band due in April, this collection is probably as near as you can get to a perfect testament to the career the worlds biggest and best loved band.
*****
Review by Nikk Gunns
---
| | |
| --- | --- |
| | Print this page in printer-friendly format |
| | Tell a friend about this page |