VARIOUS Rock S'Cool SPV (2007)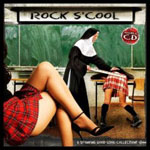 A corny idea, coupled with the fact that all compilations are limited by available licences, but you still get a damn good set here, a good introduction across a range of genres.
So if you like one genre, and your parents (or kids) like another, this is a good place to start.
Yes it's as simple as that.
Disc 1 opens with Hard Rock - Whitesnake, UFO, Black Sabbath (Well, Heaven & Hell) and Doro, before we get Heavy Metal (or 'trad' metal0, with tracks by Saxon, Judas Priest and Metal Church. Yes the Saxon track is their new single from the latest album and the Priest track features Ripper Owens, do not be dismissive. They are as classic metal as you get, no question.
Then there's Power Metal - featuring Iced Earth, Helloween and the highlight of the whole set - Freedom Call.
Disc 2 opens with Thrash. Kind of hard to cover with no Megadeth, Anthrax or Metallica, but there's some fine metal in Kreator and Sodom.
Hardcore is covered by, amongst others, Biohazard, Sepultura and Type O Negative. Not my cup of tea at all but there's many a fan.
Alternative - Skinny Puppy and Amplifier is a fair try.
And there's only one way to finish a metal compilation, introduction or otherwise, and this they do get right - Motorhead's Ace Of Spades.
The DVD is more patchy - with 25 videos, many of which seem cobbled together and edited too. But within that there's Rhapsody with the spoken intro by Christopher Lee, utter brilliance. But that said, there's 30 second clips of every track from the featured albums - snippets from over 1000 songs!!!
Still, a great intro and a lot of fun to plough through.
***½
Review by Joe Geesin
---
| | |
| --- | --- |
| | Print this page in printer-friendly format |
| | Tell a friend about this page |