VARIOUS Just About As Good As It Gets! Smith & Co (2007)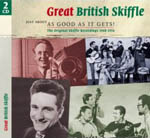 The quality of the 65 track double CD that is Great British Skiffle: The Original Skiffle Recordings 1948-1956 (SCCD1123) probably shouldn't come as much as a surprise as it does given the pedigree of the likes of Chris Barber, Lonny Donegan, Beryl Brydon, Ken Colyer and even Humphrey Lyttleton. But this is a historical album that blows away the cobwebs and returns us to a time when Skiffle provided the most exciting music of the time. The subsequent irony that the short lived two year boom (circa 1956-58) became subsumed by a Trad Boom populated by many of the Skiffle practitioners featured here is only briefly touched on.
Shortly after the 2 year boom R&B came to hold sway and Skiffle was quietly forgotten and became at best remembered with an embarrassment that the music here undoubtedly shows to be misplaced. But as they say what goes round comes round, and this timely retrospective throws up some startlingly good material, and some part forgotten gems and perfo rmers. Thus the American Country singer and mandolin player Johnny Duncan shines in the Barber Skiffle Group on 'Where Could I Go' while pianist Johnny Parker excels notably in the context of the Humphrey Lyttelton Group on the wonderful 'Bad Penny' - a song produced by Joe Meek that all but dragged Humphrey into the 20th century.
No Skiffle collection would be complete without Donegan's 'Rock Island Line' which opens disc two, and while Beryl Brydon's 'Kansas City Blues' is an example of her penchant for authenticity, which was undoubtedly shared by Ken Colyer, it's the more rugged material such as Bob Wallis's Tight Like That' that gives a real indication of the excitement that Skiffle could generate. ****
And so to Lonnie Donegan The Original Skiffle Recordings 1953-1956 (SCCD 1123). Despite having a well documented and hugely successful career Lonnie Donegan has probably never been as well researched as this.
All those bitten by the Skiffle bug by the preceding compilation will undoubtedly want to check out this extensive Lonnie double CD. For while Donegan's greatest successes such as 'Lost John', the unexpected US hit 'Rock Island Line', 'Midnight Special' and 'John Henry' are all included here, there is much else to recommend from a passionate singer and fine interpreter of song.
Although inextricably linked with the career of Chris Barber and Ken Colyer, Lonnie's naked enthusiasm and passionate performances overtook even his own semi pro ambitions. The harmonies and playing on 'Railroad Bill' for example, are exemplary while 'Frankie & Johnny' sows the seeds for future rockabilly excursions.
On a live outing of the old Washboard Sam classic 'Diggin' My Potatoes', Lonnie impresses with a strong vocal delivery, and similarly brings real passion to bear on Leroy Carr's blues outing 'When The Sun Goes Down'.
Overlooking a few different takes of the same song this Lonnie compilation gives a real insight into the rise of Lonnie Donegan as a core practitioner of the Skiffle boom that was to hold sway in the mid fifties. 50 years on, there is still a sizeable audience for the raw, passionate rhythm driven music that Donegan successfully exported world-wide. ***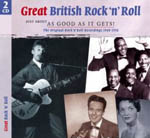 Compared to the above two albums, it is arguable that the earliest stirrings of British Rock & Roll sound the most dated. And while Great British Rock 'n' Roll: The original Rock 'n' Roll Recordings 1948-1956 (SCCD1124) undoubtedly makes a case for the early UK antecedents of Rock & Roll, the music doesn't always back up the theory. Looking back the whole scene was a bewildering amalgam of different musical influences.
Winifred Atwell for example, the superb Boogie pianist originally came to the UK from Trinidad to study classical piano while Don Lang was already a veteran jazz band member of the time but with enough swing to catch on to the new scene. Even such an esteemed rocker as Tommy Steele didn't hang around for much longer than three of for years before embracing main stream theatre. But somewhere in between this disparate group of bands, singers and virtuoso players something called Rock & Roll was stirring, be it through the honking sax of Ronnie Scott, Atwell's flighty piano boogie, and the Southlanders vocal harmonies (complete with insipid strings), or indeed via Frankie Vaughan's big band arrangement
In truth as much of the music suggests here, there was a sense of change though perhaps not one that was might have readily been recognised as the stuff of title of this album. And out of all four albums perhaps this one struggles most to live up to its thematic title. **
Great Rockabilly: The Original Rockabilly Recordings 1955-1956 (SCCD 1125) is an altogether different kettle of fish, and as the excellent Dave Travis liner note suggest, such was the power of Rockabilly that any number of different styled musicians from Country to Bluegrass artist abandoned their previous musical history to rock out to great effect.
For the most part, the myriad performances here are a true indication of musical change, a clear case of how the force of change influenced music. Look no further than Country crooner George Jones who tears it up on 'How Come It' And while this two-CD set includes all the faithful from Johnny Burnette, some third generation recording of Elvis, a classic Carl Perkins 'Dixie Fried', Gene Vincent, a young Johnny Cash and Roy Orbison, it is undoubtedly some of the more obscure offerings that impress.
Check out Joe Clay's cover of 'Ducktail' and the sparse but effective 'Rockin Rollin Stone' by Andy Starr to Don Woody's piano led 'Barkin' Up 'The Wrong Tree' and the classy 'Ubangi Stomp' by Warren Smith to hear the sheer variety of the exciting nascent Rockabilly scene.
Of course the essence of Rockabilly lay in the double bass back beat, the raw guitar breaks and at times OTT vocal stylings, and various independent record companies of the time were quick to switch horses to maximise their return. But happily this marathon 64 track compilation covers all bases and lives up to its 'Great Rockabilly' title. ***
Review by Pete Feenstra
---
| | |
| --- | --- |
| | Print this page in printer-friendly format |
| | Tell a friend about this page |