ROBERT PLANT Reissues Rhino (2007)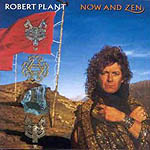 Following on from last year's box set containing all Robert Plant's solo output, the albums each get their own individual re-release with added bonus tracks (these bonus tracks were included in the box set). The Honeydrippers CD is also re-released adding extra tracks.
For me 1988's Now and Zen is the first real 'must have' of Robert Plant's solo work. Previous albums contained some good songs and a hit single in 'Big Log', but they did have too many average tracks.
'Now and Zen' saw Plant hook-up with Phil Johnstone on keys and more importantly as a co-writer on many of his tunes over the next few albums. This album at the time also caused a stir as Plant's Led Zeppelin band mate Jimmy Page guested on two tracks, namely 'Heaven Knows' and 'Tall Cool One', the latter boasting some Led Zep sampling as well.
The sound is very electronic/keyboard led with a big, almost synthetic drum sound supplied by Chris Blackwell. 'Ship Of Fools' is one of Plant's best ballads whilst the rock 'n' roll flavoured 'White, Clean and Neat' is semi-autobiographical. Three bonus tracks are live versions of songs from the album which are okay but the sound quality is not the best at times. ****
1990's Manic Nirvana, along with Plant's latest album 'The Mighty Rearranger' are for me his best works. Not one duff track on here and some real rock anthems on here including 'Nirvana', with its great slow build chorus, the riff on 'Tie Dye On the Highway' is stunning and for a more reflective moment try 'Watching You'.
This album really saw the guitar back into the music (guitarist Doug Boyle really adds his personal stamp to the tunes) whilst keeping the big drum and keys/electronic sound. Three bonus tracks with 'Oompa (Watery Bint)' the pick of them as it sits well with the rest of the album. *****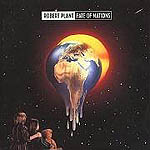 By 1993's Fate Of Nations Plant had expanded his musical backing musicians with guitarist Kevin Scott MacMichael in particular making an impact in the song writing area. There was also more use of traditional instruments such as the hurdy gurdy on 'I Believe', which paves the way for the more world music approach taken by Plant & Page.
This album also provided another hit single in '29 Palms', a song made for cruising down a US highway/M6 motorway on a summer's day. A real highlight though is the achingly beautiful cover of 'If I Were A Carpenter', surely one of Plant's best vocals in ages. Five bonus tracks on this one, including the folk tinged 'Colours Of Shade' with Martin Allcock (Jethro Tull/Fairport Convention) providing all the instrumentation. 'Great Spirit' features another fine vocal performance. ****½
Of the three surviving Led Zep members Robert Plant has had the most success sales wise and musically, as he keeps pushing his own voice into new direction and exploring new musical avenues. Grab these three albums plus 'The Mighty Rearranger', the Honeydrippers album and check out his new music with the Strange Sensation. Truly a vocal hero and these re-issues serve as a timely reminder of how varied and enjoyable his solo output is.
Review by Jason Ritchie
---
| | |
| --- | --- |
| | Print this page in printer-friendly format |
| | Tell a friend about this page |