ROAD II RUIN AOR Heaven (2007)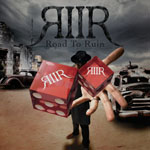 When it comes to the shake-up to decide my personal favourites of 2007 I'll be surprised if this doesn't feature somewhere high in the listings.
A project developed from sessions to write new songs for guitarist Lars Chriss and bass/keyboard player Sampo Axelsson "Lion's Share" band, which took an interesting turn when they decided that the material wasn't "heavy metal" enough for LS to take on but was too good to discard.
Deciding instead to follow their influences they continued to develop a set that owe much to the classic hard rock bands Deep Purple, Rainbow, Whitesnake, Led Zeppelin and Black Sabbath, and after bringing in Thomas Broman (Electric Boys, HTP etc) to add drums to the basic tracks they played their trump card by inviting vocalist Matti Alfonzetti to join the group to help finish the project. Alfonzetti, in my opinion, is one of the "lost" voices when it comes to singing blues based hard rock. His performances both live and in the studio fronting Myke Gray's pre-Skin band "Jagged Edge" hold great memories for me and at last, after occasional re-appearances in solo projects or notably with Damned Nation, Alfonzetti once again has a set of songs which really suit his "traditional rock singer" delivery style.
Opener "The Only One" kicks off with a keyboard drone straight off Rainbow Rising yet develops into something more akin to the Joe Lynn Turner flavour of the band. JLT similarities rear again later in proceedings with the excellent rocker "Walk The Line". "Pale Rider" ticks the Zeppelin style box and "Pleasure And Pain" occasionally delivers the kind of guitar, drums and keyboard interplay Purple used to do in their Mk III pomp.
Even the ballads are delivered with balls rather than syrup. The mid-tempo deep and meaningful number "Face Of An Angel" starts with a dirty great hammond organ sound and proves not too far away from the old Jagged Edge template, whilst elsewhere both "Thorn In My Side" and "For Your Soul" are impressive, sounding totally right in the confines of the album rather than concessions to try to encourage some airplay.
Top of the pile overall though is the superb heavy rock assault of "Crawling" which borrows a riff similar to Sabbath's "Children Of The Sea", adds a bit of "You Keep On Moving" mid way through and throws some similarities to "Mistreated" into the mix to boot yet ends up being a monster of an original which demands attention.
At just nine tracks and forty minutes length "RIIR" have even gone as far as emulating something like the ideal time a classic rock album should take. Not overlong or stuffed with filler, the only criticism that could possibly be leveled against the release is a lack of originality but given that they've come clean and admitted the idea was to create an album in true classic rock style the only conclusion I can draw is that they've succeeded, and to considerable effect. Great stuff! So far up my street that it's moving in and taking up residence.
****½
Review by Bill Leslie
---
| | |
| --- | --- |
| | Print this page in printer-friendly format |
| | Tell a friend about this page |