RITUAL The Hemulic Voluntary Band Inside Out(2007)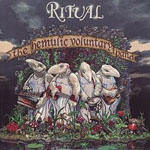 The strange title is again linked to the Moomins books and unlike their last album, the excellent 'Think Like A Mountain' this new album isn't an instant hit. In fact on first play I was rather disappointed but after a few more plays it all slots into place musically and is another fine album from this very talented and off the wall band.
Only six songs although the final track is a mammoth twenty six minute affair! 'In The Wild' and 'The Groke' sees the band exploring further their folk sound and utilising their wonderful harmonies - all four members of the band add their vocals.
Vocalist Patrik Lundstrom (also the vocalist in Kaipa) is the band's secret weapon as he really does have a unique vocal style.
The title track sounds like classic Yes in the instrumentation with a little bit of Genesis and Camel thrown in for good measure. In fact the album's overall sound does recapture those glorious sounds of the 70's prog legends, whilst keeping the music up to date and fresh sounding. Now for the epic 'A Dangerous Journey' which starts of gently then those harmonies kick in along with some wonderful instrumental pieces. The fact they use mandolins, recorders and more all expands their sound and makes for an enjoyable journey for the listener.
Ritual really are in a league of their own and if you have yet to try do start with this album or 'Think Like A Mountain'. It's a little bit prog, it's a little bit folk and a lot of fun!
****
Review by Jason Ritchie
---
| | |
| --- | --- |
| | Print this page in printer-friendly format |
| | Tell a friend about this page |
***** Out of this world | **** Pretty damn fine |
*** OK, approach with caution unless you are a fan |
** Instant bargain bin fodder | * Ugly. Just ugly
get ready to rock is a division of hotdigitsnewmedia group