RINGO STARR Photograph (EMI)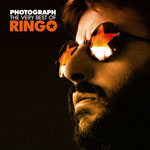 The first half of Ringo's career seemed to act as a barometer of what relations were like between the other three Beatles. What with Lennon, and Harrison periodically writing for Ringo, and McCartney occasionally playing on his albums, and Lennon starting the rumour that all four actually played on 'I'm The Greatest', everyone it seems still loved Ringo. And as the first quarter of this timely 32 year EMI retrospective suggests - timely because the last few efforts suggests something of a career renaissance - Ringo always had something to offer in his own right.
And while his solo career at times resembles a missing piece from the outer fringes of a Beatles jigsaw puzzle, there are enough hits and original songs here to recommend purchasing this album.
Look no further than the early seventies efforts of which 'It Don't Come Easy', complete with the opening guitar glissando, the catchy 'Photograph' and the underrated and cleverly written, T Rex influenced 'Back Off Boogaloo', which are a reminder of just why Ringo was a chart topper in his own right. Indeed by 1973 he was actually the most successful solo Beatle. On the tongue in cheek, Lennon penned, 'I'm The Greatest' which for Ringo was actually self affirming, there's a clever use of assonance in the half rhymes that match 'matter' with 'had ta'(sic), as Ringo goes on to proclaim, 'I'm only 32 but all I wanna do is boogaloo'.
He even predates Lennon with the sax led, 'Walls & Bridges' style, mid 70's production on 'Oh My My'. And if nothing else, Ringo was always drawn to a good hook as delivered on the otherwise forgettable Elton John/Bernie Taupin penned 'Snookero'.
But over the course of the 20 tracks his commercial bent does become subsumed by a puzzling mix of country on 'Beaucoup of Blues' - albeit it was recorded in Nashville - and some unexpected nostalgia.
In the context of this compilation the sequencing almost seems to be an attempt to hide some of his more forgettable stuff in the middle, with 'Only You' from 'Goodnight Vienna' being a return to the nostalgia of his 1970 album 'Sentimental Journey'. And by the time of the 1976 cover of Bruce Channel's 'Hey Baby' Ringo appears happy to be just part of another nostalgic sing-along.
But there was always something of the Beatles magic in Ringo. Yes, he had plenty of assistance from his Fab Four chums but once his personal problems were overcome he shows he still had some petrol in tank.
His talent only barely flickered on the retro US hit 'A Dose of Rock 'n' Roll' which stole its opening line from Maurice Williams' 'Stay' but by the early 90's he's back on form with 'Weight of the World (both tracks are wrongly sequenced on the CD jacket). On the latter, the opening guitar line draws heavily from The Byrds and The Searchers, but reveals a lovely chorus, and the song is heavily underwritten by Jeff Lynn's Travelling Wilbury's style production.
1998's 'The King of Broken Hearts' from the better received 'Vertical Man' album is an impressive co-write with producer Mark Hudson and the Bruce Grakal and Steve Dudas team which five years on co-wrote the poignant and quite beautiful 'Never Without You' ode to George Harrison.
'Broken Hearts' is in many ways a better effort than the remaining three Beatles managed on the Lennon ode 'Free as a Bird'. It starts slowly but leads into another great hook together with some lovely George slide. Curiously the album lurches back to '81 for Harrison's inoffensive poppy 'Wrack My Brains', but finishes with the jaunty pop sensibility of another good effort, the 2005 release 'Fading In and Fading Out', which not for the first time on this wide ranging compilation impresses with a fine chorus.
****
Review by Pete Feenstra
---
| | |
| --- | --- |
| | Print this page in printer-friendly format |
| | Tell a friend about this page |