RICHIE KOTZEN Return Of The Mother Head's Family Reunion Frontiers (2007)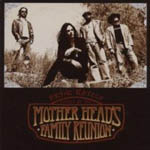 An interesting puzzle is set here as Richie Kotzen, guitar virtuoso of some note as well as former member of both Mr.Big and Poison resurrects the name of the his 1994 solo yet neither the literature with the release or indeed his website gives any explanation as to why. In fact his website has these songs listed on a release, albeit from this year, entitled "Go Faster" so quite whether it's getting a quick re-release under this new title, or it's under a different name for different markets is a question worth asking.
Whatever the answer though it's what's on the disc that's more interesting for me as although I've not followed his career all that closely, the two albums he did with Mr. Big ("Get Over It" & "Actual Size") were good despite not matching the bands early success over here while the "Forty Deuce" project was another fine, and more recent release that caught my attention. And it's fair to say that the highly technical yet radio friendly sound of Mr. Big is revisited somewhat in both "Do It Yourself" and "Feed My Head", which comes as quite a surprise really as the first few tracks hit on a classy blues-rock sound with definite funk leanings.
Elsewhere there's a ballad entitled "Chase It" which reaches almost Def Leppard proportions minus only the layered vocals whilst a superb slice of heavy blues done Black Crowes style is present through the excellent track "Dust". Special mention though is reserved for the heavy rock of "Bad Things", made memorable by the deep bass riff and a raw solo, and the fine boogie rock closer "Can You Feel It".
In fact, when you can leave the more than decent "Drift" to appear only in demo form as a "euro bonus track" you're obviously pretty happy with the main line-up, and rightly so. On just a few initial listens it possibly lacks the big killer track that immediately sticks in the head but there are more than a few quality numbers that ensure the album will remain on rotation for a good while and get the opportunity to grow.
****
Review by Bill Leslie
---
| | |
| --- | --- |
| | Print this page in printer-friendly format |
| | Tell a friend about this page |