RAZORBACK Deadringer AOR Heaven (2007)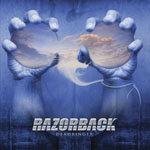 Razorback feature guitarist Rolf Munkes (Empire), bass player Chris Heun and vocalist Stefan Berggren (Company of Snakes/M3). They are joined on this album by drummer Mike Terrana (Masterplan).
Although Stefan Berggren has been known for his work with former Whitesnake members in Company of Sankes/M3, he is a deadringer for Ronnie Dio's voice on here.
Just take a listen to the album's stand out track 'The Last Man Standing' or 'Line Of Fire' for proof. The playing is top notch as you'd expect, it is only the songs at times that let the album down with 'Miracle Baby' and 'Let Me Give Livin' outstaying their welcome. Mind you album closer 'Razor Blues' ends the album on a high note with some mean and dirty blues guitar playing.
By no means essential and I personally prefer Rolf Munke's other band Empire to this but if you like Dio like metal then this is certainly worth a listen.
***
Review by Jason Ritchie
Hero
© 2007 AOR Heaven. All rights reserved.
---
| | |
| --- | --- |
| | Print this page in printer-friendly format |
| | Tell a friend about this page |
***** Out of this world | **** Pretty damn fine |
*** OK, approach with caution unless you are a fan |
** Instant bargain bin fodder | * Ugly. Just ugly