RARE BIRD As Your Mind Flies By Esoteric (2007)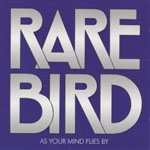 A treat for fans of Hammonds, harpsichords and Mellotrons in the rock idiom, this talented and original British act's 1971 follow-up to an acclaimed eponyomous debut ramped the quality stakes up more than a few notches.
Compositionally poppier content was eschewed for the voguishly progressive and coupling this 'new' thinking to the band's classically-underpinned, keyboard-dominated sound delivered something altogether meatier.
A suite of melodic rock songs with dramatic instrumental passages builds to a career tour-de-force in 'Flight'. A genre archetype, replete with choir, a spirited dip into Ravel's 'Bolero', it took up all of side 2 of the original LP release.
The album packed wow factors to take Rare Bird to new heights but when contract hassles prompted mainman Graham Field to leave at the end of the year, the rest of the band brought in guitars in a bid for mainstream.
More commercial perhaps, but rendered less rare, the act went the way of the dodo in 1975. This superior reissue adds single versions of the plangent 'What You Want To Know', the Van Der Graff-ish 'Hammerhead' and previously-unreleased ballad 'Red Man' and tells the Rare Bird story intelligently. 'Where are they nows?' on all but Fields, whose self-titled release on CBS remains his only further recorded output, lends enigma to a talent. Where is he now?
***
Review by Peter Muir
---
| | |
| --- | --- |
| | Print this page in printer-friendly format |
| | Tell a friend about this page |