RANDOM TOUCH Alchemy Token Boy Records (2007)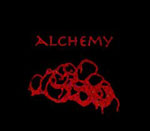 Tangerine Dream meets King Crimson? Can intermingles with The Mothers? I can think of an additional dozen exciting musical hybrids the new Random Touch CD Alchemy resembles. Amazingly, they are making their fresh and unique music in this day and age where dull and rehashed sounds are emanating from just about everywhere. The term 'improvisation' is loosely thrown around these days with jam bands like Phish and String Cheese Incident getting most of the glory. But if you want to hear the real deal then a thorough listen to Random Touch's Alchemy is just what you need.
Random Touch consists of Christopher Brown on drums, James Day on keyboards and Scott Hamill on guitar. The eclectic troupe has released a string of critically acclaimed CDs and DVDs dating back to the 1990s, making their latest (seventh) CD/DVD Alchemy a welcomed event.
"Like other CDs of ours, Alchemy ended up a concept album, but as usual the music was created in its entirety before the title arrived," explains drummer Christopher Brown. "This flies in the face of conventional wisdom about the need to plan out a concept album; however, as improvisers we are not much for planning. After the fact we 'make sense' of what we've created. As we are making the music we start to get some clues. In the case of Alchemy, which includes a DVD, we also took our cues from the videos as they came together. For example, when we completed the first music video we titled it 'The Alchemy of Turbulence' (track 3), and we thought it the perfect title for the CD. However, as time passed it became clear the album was more deeply focused on Alchemy itself."
Can the music of Alchemy possibly be described? I'll try! Ethereal musical landscapes painted by textures of sound; stimulating improvised waves of audio and visual brilliance, augmented by intense rhythms, feelings and colors, weaving through an uncharted universe created by Random Touch.
"Our message is that this world is stranger and more amazing than you likely realize," professes Christopher Brown. "We jam because we love it and we would do it even if we had no means of recording it. Diving into the unknown, without a plan, and discovering pieces such as you hear on Alchemy, is pure bliss. Once recorded, a track becomes a powerful reminder of something we had not only participated in, but had also witnessed. As witnesses to remarkable sights and sounds we have the urge to share them."
Upon listening to Alchemy, I was struck by the similarities of Christopher Brown's drumming and that of the late, great Tony Williams and legend Jack DeJonnette. Brown's performance could easily fit on any ECM record from the early 1970s.
Upon discussing influences, Christopher Brown divulges, "I know that Scott would say Bill Frisell, Phil Manzanera and Charles Ives. And I know that Ligeti, Hancock, Berio, Copland, Debussy and Stravinsky are on Day's list. For myself, drummers Billy Hart, Mitch Mitchell and Tony Williams come to mind, as well as Bernstein, Bartok, Zappa, Stravinsky, Copland, the Mwandishi group, Miles Davis, Sun Ra, the Jimi Hendrix Experience, the Grateful Dead, King Crimson and Yes. But I must say that I don't really believe in musical influences as they are usually conceived - at least not for a devoted musician north of age 40. I do believe that in the time between puberty and the end of the teenage years an interesting situation develops. Who you are as an artist lies somewhere beyond your personal horizon.
Typically there aren't enough life experiences to see beyond the horizon at that point, so the focus is on the music made by those who appear between yourself and your horizon. It's no surprise that those artists are tangentially connected to you. They lie literally on the path between the youthful you and who you are as an artist. For all that I love Billy Hart's drumming on the three Mwandishi albums, my drumming now doesn't feel influenced by his work.
Since those days, or really, beginning in those days, I have focused considerable energies on unlearning and un-conditioning myself. Letting go of the old and making room for the new is at the heart of this intention. As influences go, I would suggest that Dr. Seuss at age 4 and LSD at age 16 influenced me in profound ways that still resonate with my music making. All the rest is frosting."
The depth and breadth of Alchemy is foreshadowed on the opening cut "Incompleteness Becomes Us" with its lavish chords and sonic brilliance. On track 4's "Stones Whisper In My Sleep" Scott Hamill's guitar effectuates a bluesy feeling yet his sound remains as spacey and disjointed as ever. Track 7 "Nocturnal Emissions" has already received some airplay from the more progressive radio stations around the planet. To my ears, the composition sounds like a cross between the Grateful Dead's free-form mid-1980s jams and an early Mothers Of Invention improvisation session - a terrifically inventive and genre defying work.
Track 8 "Crossing Expanses Darkly" is reminiscent of Eno's On Land recordings, with backwards dubs, earthy sounds and synthesizer effects all tastefully recorded.
The title track "Alchemy" has more of the ECM feel happening with Dejonette drums and extended celestial chords that remind me of the opening track from Weather Report's first album.
The Alchemy DVD is just as unique and creative as the CD. The visuals range from surreal to serene and are stunning at times, perfectly accompanying the music. As a bonus, there is also material on the DVD not included on the CD.
Available on the band's private label Token Boy Records, the music of Alchemy will expand your mind!!! For those adventurous enough to travel to horizons of sound far beyond what is familiar and safe, I strongly recommend a trip with Random Touch!
****
Review by Billy James
Band website
---
| | |
| --- | --- |
| | Print this page in printer-friendly format |
| | Tell a friend about this page |