RACHEL UNTHANK & THE WINTERSET The Bairns EMI (2007)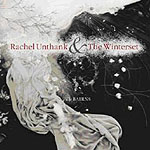 Rachel Unthank and the Winterset's second album (following their 2005 debut 'Cruel Sister') gives a refreshingly unfamiliar take on the folk tradition of their native North East. Rather than singing about miners, shepherds or fishermen, Rachel and her friends focus instead on the no less dramatic domestic, private and personal stories of those who stayed at home. The brilliant trick this collection pulls off is to present its harshest tales of separation, domestic abuse or infant mortality in a spirit of defiant resilience, while the more ostensibly simple children's songs and lullabies are suffused with an implied menace reminiscent of nursery rhymes.
The opening track 'Felton Lonnin' sets the scene with sparse atmospheric piano chords introducing a deceptively simple, haunting lyric. Rachel's voice, lightly accented, immediately establishes its personality - quietly confident, at once fragile and stoic, here as throughout in perfect sympathy with her material. Foot-tapping provides a casual but insistent rhythmic pulse. Strings creep in, unsettlingly, giving the first hints of the dissonance (shades of Billie Joe at the Tallahatchee Bridge?) which is a characteristic of the album's tonal palette. The track builds to a climax of hypnotic melancholy as a string quartet lurches and weaves behind Rachel's quiet, breathy vocal.
A strange, dream-like quality pervades, enhanced by Adrian McNally's sensitive production. Many of the songs are taken at a slow pace to allow the weight of even the simplest lyric to make itself felt. The girls all sing and their harmonies are used sparingly and to great effect.
Though Rachel's voice rightly holds centre stage, this is much more than a solo enterprise. Sister Becky provides vocals on several tracks including an unexpected but wholly appropriate reading of Robert Wyatt's classic 'Sea Song' and two originals (the catchy 'Blackbird' and the stark 'Whitethorn') by pianist Belinda O'Hooley. The latter's vivid accompaniments are a strong feature throughout, delivering spooky atmospherics, jazzy chords and music-hall flourishes, sometimes within the same track. Niopha Keegan, whose fiddle supplies the earth and fire to complete a well-balanced mix, completes the quartet.
The black and white cover photos show the group sitting around the reconstructed dining room of a North East working class home of a hundred years ago at the Beamish Museum in County Durham. The setting and style neatly suggest the period much of their music evokes, but Rachel and the Winterset are much more than curators of a tradition. By bringing alive the deep emotional truths of these quietly powerful songs, they have built a bridge to the past to make an album which is fresh, different and timeless.
*****
Review by Rod Clements
Rod Clements is the co-founder of much-loved (and missed) folk rock band Lindisfarne
Find out more about Rod and his solo works here
---
| | |
| --- | --- |
| | Print this page in printer-friendly format |
| | Tell a friend about this page |