QUIET RIOT Rehab Chavis (2006)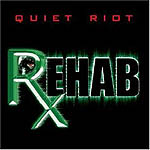 From the pounding opening track 'Free' this new Quiet Riot CD captures the bands classic sound but with modern overtones throughout.
Original members, vocalist Kevin DuBrow and drummer Frankie Banali, are joined by bassist Tony Franklin (Ex- Blue Murder) and session guitarist Neil Citron, and have produced an album worthy of the Quiet Riot name.
Outstanding tracks include 'Blind Faith', the anthemic 'South Of Heaven', the slow building 'Beggars and Thieves' and 'Don't Think'.
****
Review by Nikk Gunns




***** Out of this world | **** Pretty damn fine |
*** OK, approach with caution unless you are a fan |
** Instant bargain bin fodder | * Ugly. Just ugly
get ready to rock is a division of hotdigitsnewmedia group
Why should I buy this CD?
This CD will not disappoint long term, and new, fans of the band.
Burn baby burn
Free, South Of Heaven and Don't Think.