GRTR! Reviewer drained and weakened by emotional whirlwind...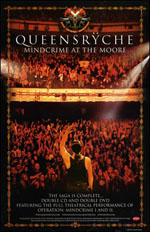 Queensryche's "Operation Mindcrime" is my favourite album of all times, so you understand why I felt slightly uneasy when I first found out that the Seattle Progressive Metal legends were planning on recording its sequel. After months of long discussions and heavy confrontations between music journalists from all over the world, "Operation: Mindcrime II" finally saw the light of day in 2006 and was almost immediately regarded, at least by the majority of the press, as a worthy successor to the multi platinum masterpiece. Knowing how eager Geoff Tate's outfit is on taking great challenges, though, led me to believe that it would not be long before I would be presented with something equally exciting, and by God I was right.
The band's latest goal: to perform a theatrical version of "Operation: Mindcrime I & II" in their entirety. I can still hear in my mind some journalists expressing their negative views over such a colossal task: "will Tate's 'aged' voice manage to cope with the intensity of the material", "how will Mike Stone recreate all these difficult leads originally performed by Chris DeGarmo on stage", "will this be Queensryche's biggest career mistake"? Well, after many long and well thought out preparations the band went ahead with their plan and the result of this attempt is both audible and visible in their latest DVD release "Mindcrime At The Moore".
I was not particularly worried about how "Operation: Mindcrime II" would come across in a live environment, seeing as this album is still fresh, having only just celebrated its first birthday, and is the brainchild of the same line-up whose performance you will enjoy on this DVD. I was particularly worried, though, about the first part of the saga, especially since "Operation: Livecrime" is one of the best live performances ever recorded on film! Well, soon after I start watching this first part I realised that when real art is concerned, time is of no essence! This new live version is far more pleasing to the eye, seeing as it includes a proper stage set, a number of different actors portraying the characters in the story and a band which sounds more passionate and inspiring than ever.
Geoff Tate's overall performance is breathtaking; having to work on his very demanding vocal parts while being fully engrossed in his character (Nikki). Once again he looks more than eager to express his views on the current political situation in relation to the war in IRAQ, waving a sign during "Revolution Calling" to the Seattle crowd that quotes "U.S OUT OF IRAQ" on one side and "WAR IS TERRORISM" on the other - an attitude that gains a very warm and positive reaction from the crowd. Pamela Moore (Sister Mary) is much more involved this time round and her performance, in connection with the numerous videos playing in the huge video walls of the Moore Theater, together with that of the other actors, will give you a better understanding of the plot. Mike Stone has proven to be a worthy successor to Chris DeGarmo's legacy, having managed to put his signature on the few improvisational versions of "Electric Requiem" and "My Empty Room" without jeopardising the atmosphere and coherence of this unique release. After more than one hour on stage and having listened to the last tunes of the masterpiece "Eyes Of The Stranger", Moore's curtains provided a short but very welcoming break.
Soon as Queensryche get back on stage and the first tunes of "I'm American" fill the air in this beautiful theatre, you realise exactly how fitting this second part is to the original opus. It is true that "Operation: Mindcrime II" is less uptempo and more atmospheric/moody than its predecessor, but that can only be seen as a positive thing, seeing as it gives more room to Tate, Moore and the remaining actors to work on the acting part of their performance which is much more demanding and addictive. Michael Wilton continues to hammer his tunes with surgical precision, the rhythm section - Scott Rockenfield (drums)/Eddie Jackson (bass) - sound more in tuned than a Swiss Watch and the tattooed mohican Mike Stone looks much more confident in his role, often going mental on his guitar solos. I have to admit that I was slightly disappointed to find out that Ronnie James Dio was not part of the team that night, yet the 'wonders of technology' ensured his participation in "The Chase".
The remaining compositions after that of the very dramatic "Murderer?" sound like one huge musical unit and feature some really emotional performances of the duet Tate/Moore who, before pledging their eternal devotion and love, disappear from the stage leaving the last tunes of "All The Promises" to become the closing theme of one really unique night. So, what you would expect the most logical thing for a band to do, after having performed over two hours of highly sophisticated and demanding material? If your answer was "come on stage and wave goodnight to their audience", then you simply don't know Queensryche!
The band came back on stage for a short encore, performing two classics, "Walk In The Shadows" and "Jet City Woman" respectively, after which they received a long standing ovation by a really grateful crowd. So here we are - the end of another Queensryche DVD...well, not so fast. It really took quite a lot of work from many different people in order to put this huge production together and this task is recorded in the Tour Documentary which you can find in the bonus featured of this double DVD. Additionally, you will be given the chance to see R.J.Dio performing "The Chase" with the band on stage and short extracts from the band's charity fundraising "Queensryche Rock & Ride", which saw them performing in numerous locations throughout the States.
Prior to this DVD release I regarded both 'Mindcrimes' as concept albums, but this unique performance was enough to convince me that "Operation Mindcrime I & II" deserves nothing less than to be treated as a single musical unit and acquire a status similar to that of Rock Operas such as "Jesus Christ Superstar", "Tommy" and "The Wall". I really cannot see how any decent human being who is exposed to this 'emotional whirlwind' can leave this experience unscarred, and much as I found myself once again drained and weakened from the whole process, I plan on repeating this 'sweet torture' on a regular basis and...who knows - hopefully one day I will be given the chance to use this release as an opportunity to introduce my own children to the beautiful world of real music!
*****
Review by John Stefanis