PURE PRAIRIE LEAGUE Live In America
Store For Music SFMCD072 (2007)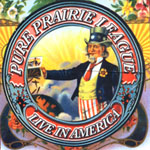 'Live in America' finds the Pure Prairie League (aka PPL) with the newly installed talent and future Country star Vince Gill just before the release of 1979's 'I Cant Hold Back' album.
PPL are one of those bands that always seemed to have enough cache about their name to play sell out shows in the mid west at the drop of a hat. Indeed on the intro to their big hit 'Amie' the band make the comment that they had been playing the song in Denver since 1972. Throw in the presence of song-writer/ excellent vocalist and soon to be Country star Vince Gill, and you have the makings of a classy band.
In truth PPL ended up falling between the two stylistic stools, being too country for the Doobie Brothers rock crowd and too rocky for the countrified Eagles audience. Live gigs were another matter of course (and still are), as they blended all the elements together in a Country Rock melange that is a few songs short of making this more than an enjoyable but standard fare live album.
'Live in America' is another in the series of Store For Music issued desk tapes taken from a succession of tour band appearances in Denver, and PPL show themselves to be a fine live act who showcase some of Vince Gill's nascent song writing talent.
The best of the material is in fact Gill's 'Misery Train' which emulates the Eagles, and 'the plaintive 'White Line, which is the kind of ballad that became the band's calling card. On the Patrick Bolen/Michael Reilly co-write 'Restless Woman', the band somehow manages to fuse together both The Eagles and The Doobie's in one song.
You get the feeling that PPL were happy keeping their audience jumping with a hybrid of bluegrass, country rock and an occasional fillers such as Buddy Holly's 'That'll be The Day' and 'Louise (What I Did)' without straying too far from ballads such as the big selling 'Amie' and 'Drifting Too Far From The Shore' - a heartfelt dedication to Lowell George.
Curiously having veered through the usual set dynamics of up, down, and sideways, the band curiously finishes on the ominously laboured funky title track of 'I Cant Hold Back'. The song references Chicago, and incorporates, funk, disco rhythms, spiralling guitars, and wailing sax end in an all out jam.
Stripped of its virtuoso excesses the track gave PPL some commercial success but was a far cry from their roots style that made the band so popular in the first place.
***
Review by Pete Feenstra

Restless Woman
© 2007 The Store For Music. All rights reserved.
---
| | |
| --- | --- |
| | Print this page in printer-friendly format |
| | Tell a friend about this page |