PROCOL HARUM Secrets Of The Hive: The Best Of Procol Harum Salvo DCD206 (2007)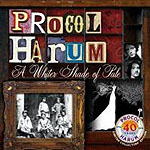 Procol Harum's greatest song also turned out to be their albatross. For while 'A Whiter Shade of Pale' not only made them a fortune – and is still the subject of a recent court case - it virtually dominated their entire recording career leaving much of their later 10 or so albums in its shadow. It wasn't as if the band were a one hit wonder, as they produced a wonderful a wonderful batch of singles including 'A Salty Dog', 'Hamburg', 'Conquistador and the later 'Pandora's Box' (all included here). But given their sweeping arrangements, esoteric lyrics and a gradual shift from their bluesy roots to an altogether grander design, Procol Harum were an easy target when Punk swept through the rock industry like a forest fire.
But the vacillations of the music industry aside, as this double compilation album shows Procol were capable of both some magnificent timeless music as well as sometimes losing sight of the bigger picture. The earlier material here is punctuated by the big guitar sound of Robin Trower particularly on the riff driven 'Whiskey Train', 'Long Gone Geek' - the original B side to 'Salty Dog'- and the caustic 'Simple Sister'. Thereafter the keyboards dominate lending themselves to the Procol signature sound and Brooker/Reid songs writing partnership that delights and puzzles by turns.
Spread over two discs, this Procol history is well laid out and emphasizes that the band's creative spark still burnt bright from time to time, most notably on the powerful organ led 'Nothing But The Truth' which should have charted, and the much later 'Into The Flood'. The story behind this previously unreleased live gospel influenced masterpiece is well told in the liner notes. Suffice it to say Gary Brooker in his element with a soulful arrangement and a grand orchestral setting complete with a call and response sections with a choir, topped by Geoff Whitehorn on guitar. This recording came from 1992 and delightfully suggests Procol had rekindled some fire in their belly.
The aforementioned underrated 'Homburg' opens disc two before the languid keyboard led vibe takes hold, with the band's meandering feel best evidenced on 'Shine Brightly' , while the dreary 'Devil Came From Kansas' is an example why the band lost some of their appeal. 'Whaling Stories' reprises the feel of 'Salt Dog' and 'Power Failure' is a reminder of one of those rare moments when a drum solo added to the band's dynamic rather than the opposite, with BJ Wilson in his element.
And so to the other main highlight of the album, the beautifully scored 'Conquistador' a song that brilliantly fuses colourful lyrical imagery, with some bombastic orchestration and Brooker's magnificent voice. With the exception of 'Into the Flood'- recorded two decades later - Procol Harum never topped this song, let alone this live rendition. It positively bristles in every aspect right down to Brooker's telling organ solo and is simply magnificent!
For the rest the it's back to the band's signature sound recalled on the aptly titled 'Grand Hotel', and the melodic organ driven hook of 'Strong As Sampson' and the Latino percussive beat of the surprise 1975 hit 'Pandora's Box' with Brooker in fine form. The following 'A Dream in Ev'ry Home' sees them succumbing to the big programmed drum sound. It's not a bad effort but is far too formulaic for a band who as this compilation shows had so much to offer.
One final little query regarding the rather forgettable 'Souvenir of London'. I seem to recall it caused some consternation at the time as it was regarded as a tale of sexual disease, although years later it appear to be presented as nothing more sinister than a tale about a trinket stall in Oxford Street. Now that's what you call cleaning up your act!
****
Review by Pete Feenstra
---
| | |
| --- | --- |
| | Print this page in printer-friendly format |
| | Tell a friend about this page |