PRIMAL FEAR New Religion 2-CD, Frontiers (2007)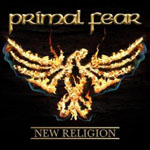 Primal Fear return with a new album and a new label having left Nuclear Blast, home for their last few albums. Personally I enjoyed some of their previous work but their Judas Priest sound sometimes misses the mark for me - you can't beat the real thing!
For this album they have kept their metal anthems, 'Sign Of Fear' and 'Psycho' being prime examples but they have also explored new sounds and styles. The duet with Epica's Simone Simons on 'Everytime It Rains' is simply stunning from the rain sound effects through to the dramatic backing music.
They also stretch their musical wings on 'Fighting The Darkness' which is in three parts and again the backing music has plenty of depth. The instrumental midsection 'The Dark' is simply stunning with plenty of guitars.
Primal Fear really have stepped up a level with this new album adding more depth to their sound and in the duet taking a new path and doing it so successfully. Vocalist Ralf Scheepes again shows he has a very powerful vocal but he can also bring it down for the slower, brooding numbers which is where this album scores highly in my book.
****
Review by Jason Ritchie
---
| | |
| --- | --- |
| | Print this page in printer-friendly format |
| | Tell a friend about this page |
***** Out of this world | **** Pretty damn fine |
*** OK, approach with caution unless you are a fan |
** Instant bargain bin fodder | * Ugly. Just ugly
get ready to rock is a division of hotdigitsnewmedia group