POVERTY'S NO CRIME Save My Soul Inside Out (2007)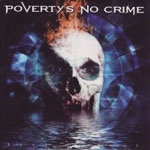 The band's follow-up to 2003's well received 'The Chemical Chaos' sees them branch out a bit more soundwise, none more so than the Sabbath like riffing on 'The Torture' - quite possibly one of the heaviest songs they have recorded to date. Whereas 'In The Wait Loop' and the melodic refrains of 'From A Distance' sees the band almost in letter day Marillion territory. Both feature plenty of keyboards and concise guitar soloing.
The only slight disappointment on the album is the epic track 'Break The Spell' which although it builds nicely doesn't really seem to go anywhere and is not a track that keeps the listener interested throughout.
Poverty's No Crime should certainly pop up on the prog metal/rock fans radar with this release as they are easily up there with Slyvian, Vaden Plas et al.
For me it is there more melodic moments which set them apart from similar bands as they can keep the melody going coupled with the instrumental wizardry fans of this genre expect and love.
***
Review by Jason Ritchie
---
| | |
| --- | --- |
| | Print this page in printer-friendly format |
| | Tell a friend about this page |
***** Out of this world | **** Pretty damn fine |
*** OK, approach with caution unless you are a fan |
** Instant bargain bin fodder | * Ugly. Just ugly
get ready to rock is a division of hotdigitsnewmedia group