PIERRE MOERLEN'S GONG Full Circle Live
Musea FGBG4386.AR (2007)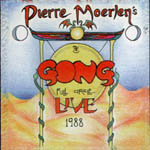 This release had me thinking. I had a Pierre Moerlen album in the late seventies. Now where the hell's it gone?
And after that senior moment, I resigned myself to the thought that 'Time Is The Key' has been consigned to the car boot sale of history. Damn.
Moerlen first came to light with Daevid Allen's Gong, a very talented percussion player, and went on to play in Mike Oldfield's band (checkout 'Exotic' for Oldfield-esque flourishes). When he broke out in his own right, the emphasis was on straight-ahead jazz funk fusion. Sadly he died in 2005.
Just get a load of the first track 'Second Wind' on this excellent Musea reissue. Brother Benoit Moerlen and Stefan Traub's vibes decorate the funky riff that kicks like a mule. Amazingly this was originally captured live on cassette in Bremen, Germany back in June 1988. Sound quality is incredible.
Support also comes from Hansard Rowe on bass (who contributes the very fine 'Soli') and Ake Zieden on guitars.
Zieden's guitar work is slightly reminiscent of the great Corrado Rustici (Nova) and considering this comes from 1988 it sounds fantastic and not dated. There's some excellent infectious riffs decorated by Stefan Traub's vibes and strong melody with great drumming from Moerlen.
If your bag is exemplary jazz funk rock fusion, check this out. It sits nicely with the best of fellow journeyman Steve Hillage's funky fusion output. Gary Boyle's Isotope also comes to mind. Even the extended drum solo, if somewhat redolent of its age, is interesting.
'Deep End' is simply fantastic, a rising theme reminiscent of Climax's 'Gotta Have More Love', busy rhythm, funk riff, topped with an attractive melody. What more could any reasonable pipe smoker ask for?
Let's hope that Musea/Voiceprint reissue the other Moerlen albums of this period. Quite wonderful.
*****
Review by David Randall

---
Deep End
© 2007 Musea. All rights reserved.
---
| | |
| --- | --- |
| | Print this page in printer-friendly format |
| | Tell a friend about this page |