OW Moon Tan Jezus Factory (2007)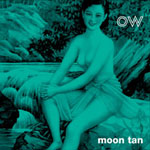 Describing themselves as a psychedelic prog outfit, Belgium's Ow are the kind of band who quickly separate the eggheads from the casual FM listeners. Their intense proggy musical vision is a modern day Trance version of Amon Duul 11 circa 1971 and a fleet of little know German prog band of the era, with additional tips of the hat to the likes of Fripp, Eno, early Floyd and Popul Vuh's Florian Fricke.
In fact there is such a diverse musical dynamic at play that you can fill in your own influences. And yet, having listened to this epic album a few times, there is a consistency to the band's psychedelic drone and insistent drum patterns that renders it unique.
From the imposing descending chord patterns of the opening soundscape with its dense wall of sound and feelings of listlessness and unease, we are taken on a musical journey full of complex musical textures, subtle but barely discernible movements, and clever musical tangents. If you ever had to compose music to reflect the nuances at play in a David Lynch film, Ow would be the perfect band.
All eight tracks fall into a grander scheme of things, much like piece in a musical jigsaw puzzle, in which each tense segment acts as a resolution of what's gone before. And in that respect there's a curious opening to the album as 'Black Hole' sounds as if it should have come at the end of the album, as it is imbued with the kind of tension breaking dazzling keyboards runs and loops that might have perfectly topped and tailed the musical rollercoaster ride that follows it.
As it is, the band build everything round the dichotomous musical facets of big and small, loud and quiet, with frequent outro sweeps from rich full ensemble passages to quiet, plaintive and dreamy instrumental sections.
In fact given the kind of supercharged and heavy wall of sound to be found on 'Hello Sunny/Coasters' and the angst ridden density of 'Liquid Sky', the aptly titled closing mini suite 'Slow Boat' comes as a something of a surprise. The twenty minute end-piece is a kind of early Floydian tapestry built round the gentle layered keyboard sounds of Elko Blijweert complete with sound loops and additional bells from drummer Chris Wauters. Thomas Noppe adds subtle guitar touches over an ever present continuous drone.
Ow occasionally punctuate their proggy landscape with an incisive melody line as on the horn led 'Drop', but overall 'Moon Tan' is the perfect title for an ambient style, mood dominated album, that ultimately is a couple of strong compositions short of being a fine Kraut Rock influenced prog album, albeit from Belgium!
****
Review by Pete Feenstra
---
| | |
| --- | --- |
| | Print this page in printer-friendly format |
| | Tell a friend about this page |