OTIS TAYLOR Definition Of A Circle Telarc 83659 (2007)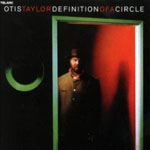 Perhaps the meaning of 'Definition of a Circle' is closely tied in with the concept of 'what goes round comes round', as gruff blues vocalist Otis Taylor has been here before. In a stop start career, punctuated by a parallel career as an antiques dealer, Taylor had a shot at music before. And whatever reasons led him to quit q few years back, have long been lost in the relatively speaking recent upswing of his career.
Having made huge inroads in the European blues market with his brand of Trance blues, or as he would have it, 'drone blues', Otis has upped the ante with a well merited Grammy award for Best New Blues artist. And while his last album 'Below the Fold' was a breath of fresh air on the blues circuit, 'Definition of a Circle' is another step up.
So what does an artist do whose sets himself the narrow parameters of often vamping on a chord, or writing a song with one long verse? In Otis's case he drafts in Gary Moore of all people as a foil to his sometimes one dimensional groove. And it works perfectly, from Gary's assertive opening lines on 'Little Berry' to his clever menace inducing guitar parts on Otis's doorman rap, 'Something In Your Back Pocket', and the explosive fret board workout on the tough rocker 'Love & Hesitation'. Harp player Charlie Musselwhite is another notable guest on the hypnotic groove of 'Looking Over Your Fence, a typical dark lyrical piece, which is neatly juxtaposed by the echo reverb laden duet with Carrie Taylor.
Much of the album is a tableaux of delicate instrumentation, all mandolin, banjo, beautitful bass (listen to the unhurried motif underpinning 'They Were Blue'), and in the case of the beautiful 'Few Feet Away', a combination of cornet and mandolin.
This is the kind of album that demands repeated listening both to fully understand the lyrical nuances and to enjoy the mesmerising playing, and for the most part very effective sparse arrangements, coloured by instrumental grooves. The exception to the les sis more approach comes in the piano duet 'Long Long Life on which delivers echoes of Cecil Taylor as Otis on piano is joined by a further guest Hiromi Uehara.
Of course all the above facets could be held to be the ordinary preserve of jazz players, or experienced arrangers, but it is Otis's unique mix of growls, close to the mike mumbles, plaintive phrasing and deep blues vocal improvisations that set him apart from similar blues stylists. That and a life full of experiences that he has somehow refracted via his own dark imagination to come up with a quite impressive slice of gothic blues, both with Gary Moore or otherwise!
****
Review by Pete Feenstra
---
| | |
| --- | --- |
| | Print this page in printer-friendly format |
| | Tell a friend about this page |