OMAR KENT DYKES & JIMMY VAUGHAN On The Jimmy Reed Highway Ruf 1122 (2007)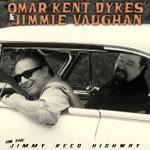 'On The Jimmy Reed Highway' is a curious project. Firstly there has already been a recent plethora of Jimmy Reed re-issues, born of the late blues man's penchant for recording just about anything for anybody. Then there is the pairing of Omar and Jimmy Vaughan. While Omar's Mississippi roots are undoubtedly as real as Jimmy Reed's were, it is his profile on the Texas scene that links him with both Jimmy Vaughan and the stellar guests that populate this album. And it is the past and present members of the Fabulous Thunderbirds members who dominate here.
Vocalist Lou Ann Barton is as fiery as ever and if anything Kim Wilson plays within himself, while bass player Ronnie James anchors the album and drummer Jay Moeller makes one appearance. And you don't get guests with anymore credibility than Delbert McClinton, and James Cotton both of whom add their respective harp styles, while Delbert also delivers a gritty vocal on 'Hush Hush'.
On top of that Omar brings in producer and Texas guitarist Derek O'Brien, and the harp playing Gary Primich, both of whom appeared on Omar's 1998's Jump Blues album, 'Swingland'. A neat final touch is that he is also reunited with veteran drummer Wes Starr on half of the album tracks. Wes appeared on Omar's 1980 recording debut 'Big Leg Beat', and there's a sense of passing on the baton to the new generation as Jake Dykes takes the drum stool for the closing Omar penned 'You Made Me Laugh'.
And yet, enjoyable as this project is, you almost get the feeling that aside from some stirring vocal performances from Omar on a number of solo and duet outings, everyone is almost falling over themselves not to push too hard.
The title track is one of the album highlights, on which Omar's characteristic growl brings to life his own self penned lyrics about Jimmy Reed's music and contemporaries. Thereafter it's really a question of what to leave out, as Reed's catalogue is so bewilderingly extensive. And significantly perhaps in the context of this album is the fact that Omar seems happiest on the laid back material as evidenced by the languid blues duet with Lou Ann Barton on 'Caress Me Baby'. He also leaves plenty of room for James Cotton to apply his expressive harp. On the similarly sparse 'I'll Change My Style', Jimmy Vaughan demonstrates his art of conjuring up an expressive solo through the delicate use tone, space, and all round dynamics. Where others use speed and volume, Jimmy quietly delivers his lines with real feel and expression, while Omar's emotive reading does Reed's original justice.
The familiar Dykes growl is resurrected on the slightly more up tempo 'Bad Boy', while Delbert McClinton fronts the swinging rendition of 'Hush Hush', swapping vocal lines with Omar to great effect.
Apparently 'On the Jimmy Reed Highway' took about a year to record, but in spite of some lovely moments, there's isn't a consistent spark and momentum. Listen for example to the undulating swing of 'Good Lover' on which the triumvirate of Omar, Lou Ann and Jimmy really lean into the song, and both Omar and Lou Ann find time to ad lib. If only the rest of the album had the same kind of frisson. Frustratingly the number fades out just as it is gathering momentum, and acts almost a metaphor for a laid back album that is one or two performances short of catching fire, but is still good enough to recommend.
****
Review by Pete Feenstra
---
| | |
| --- | --- |
| | Print this page in printer-friendly format |
| | Tell a friend about this page |