OL' PAINT Ol' Paint Fallout, FOCD 2059 (2007)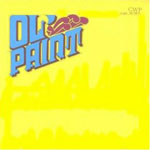 I've become slightly wary of so-called 'lost treasures', as numerous reissues of this nature have made it obvious why the album had been 'lost'! The Ol' Paint reissue drew my attention from its "Beatles-influenced psych-tinged power pop" description and I'm happy to report that this 'first time on CD' reissue from Fallout is indeed a hidden gem and worthy of investigation.
It would appear that very little is known about the band, hence the lack of sleeve notes. The back inlay reveals that this was their only album and first appeared in 1971. Ol' Paint are thought to have come from New York and the majority of songs were penned by vocalist Tony Caputo or lead guitarist Andy Mendelson. The album was produced by Rupert Holmes, Danny Jordan and Stan Herman.
It's an immediately likeable record, with opening cut 'Always In the Way' swarming with harmony vocals, stinging lead guitar and melodic bass – exactly the sort of sound that Big Star would later gain recognition for. The jaunty 'She Leaves Free' is lighter and sprinkled for good measure with some Badfinger-esque lead guitar, while 'It's my Birthday' is reminiscent of Emitt Rhodes.
The band rock out for the first time on the meaty 'All For Love' which boasts some glam-style vocals and searing guitar. Musically, 'I'm A Natural Man' is comparable to The Action's majestic '60s album "Brain" while vocally recalling The Left Banke, and the album rolls along with the McCartney-esque 'Was I Surprised'.
The remaining tracks have a more formulaic rock sound. The proggy 'Mogitah' and ballad 'Victims Of The Sex Revolution' don't really work, but Ol' Paint get back on track with the organ-led rock of 'Up From The Sea', the tour-de-force 'You Are My Friend', the dark and brooding 'Good-Bye' and the vocally impressive album closer 'Down So Long'.
All in all, the band can perhaps be seen as ahead of their time while also lacking the quality control necessary to be more successful. This reissue comes recommended to fans of '70s power pop, simply for the brilliance of the first six tracks.
****
Review by Jim Henderson
---
| | |
| --- | --- |
| | Print this page in printer-friendly format |
| | Tell a friend about this page |