NOVEMBRE The Blue Peaceville (2007)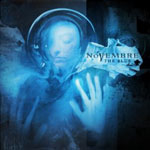 One of best signings in recent years for the legendary label Peaceville Records was that of the Italian Atmospheric Metal quartet Novembre. That very collaboration bore as its first 'fruit' the eleven track release "Materia" - an album that received a high rating from me back in 2006 and provided me with enough of motivation to keep my eyes and ears open for any of the band's future musical excursions. Well, it looks like these four Romans find it really hard at the moment to restrain their creative mood, seeing as only a year after "Materia", they are back with another studio release, entitled "The Blue".
The expectation of finding an atmospheric metal band whose music bares absolutely no influences from either Anathema or Katatonia is pretty unrealistic, so it should not come as a surprise to anyone that the vast majority of the compositions that are featured in "The Blue" are based on simple melodies and riffs that bear the signature of both these great bands. What makes this album slightly better than its predecessor, though, is the way these simple but numerous melodies are integrated in each composition, creating in the process songs that are not only difficult to resist but also surprisingly unpredictable in nature.
The first signs of this successful musical approach and of the band's artistic maturity are audible from the opening melodic theme of "Anemia" - a four and a half minute composition whose main melodic theme and use of Death Metal vocals are reminiscent of early Katatonia ("Brave Murder Day" era). Melodies are simple, riffs are solid and supportive and there is also an array of single and dual backing vocals, which enrich the overall atmosphere of this melancholic composition.
"Triesteitaliana" moves in a similar direction, yet is characterised by a beautiful C.Frost/Anathema melodic theme half way through the song's duration whereas "Cobalt Of March" is closer to being described as a melodic ballad, mainly due to the dramatic tone of itsí main guitar melodies and overall mood. Much as I loved each an every composition of the album, often feeling that there is one main connecting theme bringing them closer together, I found the emotionally painful melodic themes of "Bluecracy" and "Sound Odyssey" so hard to resist that they undoubtedly stand out from the remaining songs. Having said that, it would be unwise not to invest in either "Cantus Christi" or "Zenith" - two musically connected compositions, the former of which is full of melodic 'twists and turns' and the latter on of the most smartly arranged instrumental compositions ever recorded by this band.
Much as the simplicity of the melodies presented in each given composition makes "The Blue" accessible to fans of atmospheric music, it is only after paying careful attention to these twelve beautifully arranged compositions that you will begin to realise how much skill is involved in their creation, and understand that this is a very special release indeed. Novembre came really close to creating an Atmospheric Metal masterpiece here and by the 'sounds' of it we can only expect better things from them in the future! Great effort, guys!
****½
Review by John Stefanis
---
| | |
| --- | --- |
| | Print this page in printer-friendly format |
| | Tell a friend about this page |