NIGHT RANGER Hole In The Sun Frontiers (2007)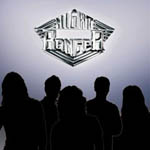 Night Ranger return with their first new studio album since 1998's 'Seven' album. Since their last album various members have been busy with solo albums (Kelly Keagy & Jack Blades) and collaborations (Jack Blades with Tommy Shaw) plus touring and releasing compilations and live albums. There has also been a line-up change since last time with original keyboards player Alan 'Fitz' Gerald leaving again to be replaced by Great White's Michael Lardie.
From the off it is modern hard rock, with 'Tell Your Vision' pulling no punched musically or lyrically. Next up 'Drama Queen' keeps the guitars set to max and the opening verses sound uncannily like the Cult's Ian Astbury!
Long standing fans may well be divided over these sings as they are much harder and raw sounding than the band's usual songs, leaning more to the sound on Jack Blades solo album. But these fans will be placated by 'Whatever Happened', where the harmonies and crystal clear guitar solos are firmly in place. 'There Is Life' is the big ballad and although not as classic as 'Sentimental Street' or 'Sister Christian' it is still a damn fine tune.
'Rockstar' is another jaunty rocker complete with a very 80's sounding synth backing - great stuff! The title track is possibly the weakest song on here, whilst 'White Knuckle Ride' adds electronic effects to produce a very heavy song.
Damn Yankees come to mind on 'Wrap It Up' with guitarists Brad Gillis and Jeff Watson riffing up a storm.
'Revelation 4am' continues the Night Ranger tradition of acoustic led songs with the guitars and rhythm section kicking in nicely on the chorus. 'Being' falls into the acoustic ballad category as well and rounds the album off nicely.
An album well worth the wait, which sees the band successfully marrying the modern hard rock sound with their more traditional ballads and harmony led hard rock tunes.
Some die hard old school fans maybe left disappointed with the more modern approach but for most this is the album fans have been waiting for and then some.
****½
Review by Jason Ritchie
---
| | |
| --- | --- |
| | Print this page in printer-friendly format |
| | Tell a friend about this page |