NICK DRAKE Family Tree Island/Universal (2007)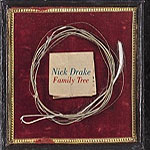 The background to these demo recordings is at once poignant and evocative.
For years after his death Drake addicts sought out his family home in picturesque Tanworth-in-Arden in Warwickshire - an essential pilgrimage to try and understand more of the world of this enigmatic artist who died tragically at the age of 26.
It was at his family home in the late sixties that Nick recorded using a little reel to reel tape recorder and for years fans would come way with a cassette tape sampler as a souvenir.
Now cleaned up for this latest release, it's another chance for the formative Drake to gain a wider audience. For fans it will be a chance to eavesdrop on his creative process in slightly better quality than previously. For others, it is a fascinating insight to a gifted talent. For all, it is the opportunity to act as voyeur, entering Drake's private world, the lo-fi recording spiced with his guffaws and banter.
Drake was a complex character and listeners will be drawn to his melancholic vocal style. It is perhaps strange and somewhat unjust that his Island albums never sold vast quantities, although his small musical legacy has grown in stature since his death in 1974.
There are several non-originals including Drake's take on Bert Jansch (Strolling Down The Highway) and Dylan (Tomorrow Is A Long Time) as well as some blues standards, a duet with his sister Gabrielle and two songs by his mother Molly. There are eight songs from Nick Drake's year out in Aix-en-Provence in 1967.
A couple of tunes, unsurprisingly, made it on to the debut album including 'Day Is Done' and a piano-accompanied 'Way To Blue'. Without Robert Kirby's wonderful orchestrations, these songs stand exposed and raw but there is no denying the naked talent that so impressed producer Joe Boyd.
There is something distinctly English about Nick Drake, and these demos - made on the eve of something potentially greater - attest a particularly distinctive idyll and leave a sad afterglow.
****
Review by David Randall
---
| | |
| --- | --- |
| | Print this page in printer-friendly format |
| | Tell a friend about this page |