Just witnessed your best live gig?..send us a review!
MARTIN TURNER'S WISHBONE ASH
Alexanders, Chester 21 May 2007
As I sat chatting with promoter Eric Harvey of Soundwave and Ash fans in the pleasant Alexander's in Chester, it occurred to us that reforming 'the classic line up' wouldn't be beyond the comprehension of even the most ardent anoraks.
Bigger tours would be had. Money could be made. Shirts could be sold. Time Was.
Our train spotting served only to ignore the considerable talents of those who have grasped the challenge of the twin guitar harmonies originally trademarked by Martin's brother, Ted and Andy Powell. For a couple of years those crucial dynamics in the alternative line up have been in the skilful hands of Keith Buck and Ray Hatfield with Rob Hewins joining his boss in the rhythm department.
The muse, Lorellei was the pick of the earlier classic Ash songs in the set with Keith Buck's fresh interpretations over Martin Turner's often-complex bass runs. Curiously, Turner is usually praised for his song writing not his bass playing. Like Glenn Hughes, Bill Wyman and John Entwistle he is one who can identify the groove and create that je ne sais quoi, which sets classic bands against the also-rans.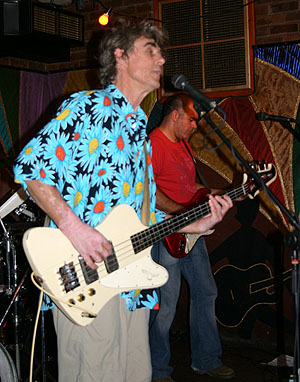 Of the new songs penned by this line up Walking The Reeperbahn was the one which did justice to the Wishbone Ash tradition of describing a sense of time and place, not only through lyrics but also through melodic progressions.
Martin Turner joked about 'an album from 1927 called Argos.' The album was Argus and we were about to behold The King Will Come. Timeless theme. Timeless riff. Timeless band. The aficionados were satiated already. One guy leaned over and told me that this was the best tenner he'd ever spent.
But it was the instrumental Outbound which showcased the oneness of this line up, Ray Hatfield and Keith Buck taking it in turns to weave the fabric of the song while Turner and Lewins supplied the raw materials.
More classics Time Was, Diamond Jack and Sorrel from Wishbone 4 were immaculately executed.
If I have a griping criticism of Wishbone music, it was always the lack of raw energy. Superstar contemporaries had that knack of spotting a hook and striking you between the eyes with it. Ash was subtler but certainly not as dynamic. Yet this is also the strength of the back catalogue. The music always evoked the images not the flashy light shows. This was certainly the case tonight.
The finale combined Blowing Free with Warrior and Jailbait and, by this time, the audience was ecstatic. Time was May 2007. 35 years on and Wishbone Ash are still relevant. I still reckon the Wishbone Ash Reunion Family Tour with that other lot would bring in some well-deserved Euros though.
Review and photo by Keith Thompson
---
| | |
| --- | --- |
| | Print this page in printer-friendly format |
| | Tell a friend about this page |