MOTT THE HOOPLE Fairfield Halls,Live 1970 Angel Air SJPCD250 (2007)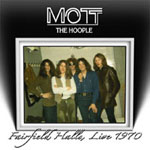 Some live albums go beyond encapsulating a gig and define a moment to the point where you can not only smell the beer, smoke and sweat but recall the car you drove home in, the friends you went with, the clothes you wore, the person you loved that day/week/month. Recorded for a proposed live album conveying the original (pre-glam) Mott the Hoople's true potency (something their studio albums seemed unable to), these tracks (bar 'Keep a Knocking's fish-out-of-water appearance on 1971's 'Wildlife') were consigned to the sock-drawer of history after 100 excited fans stormed the Fairfield Halls stage, knocking mikes down, kicking leads out, and thus scuppering a release.
Mercifully, 35 years on, we finally go to the ball. A holy grail for fans, this seminal set, opening for Free, captures the band's phenomenally-entertaining live act to perfection. It's only seven songs-long but you get your money's worth as a roaring, packed house enjoys knockout takes of faves 'Rock 'N Roll Queen' and 'Thunderbuck Ram' counterpointed by ballads 'No Wheels To Ride' and 'When My Mind's Gone', topped by a hard rocking 'Keep A Knocking' and an encore of a famed, explosive instrumental cover of The Kinks' 'You Really Got Me'.
Even Free - riding high on the success of 'All Right Now' - must have swallowed hard before following this. The Fairfield Halls set is worth the price of entry alone. But we also get five extra tracks including 'Walking With A Mountain', 'The Original Mixed-Up Kid' and 'Laugh At Me' from 1971 played to a politely restrained audience in Stockholm which the band heckles into a collective mojo ending with another stomping 'Thunderbuck Ram'.
Hitch this music to a bumper 20-page booklet of band recollections and pictures and you have a brief but sublime moment in rock history.
*****
Review by Peter Muir


£12.99
Rock 'n' Roll Queen
© 2007 Angel Air Records. All rights reserved.
---
| | |
| --- | --- |
| | Print this page in printer-friendly format |
| | Tell a friend about this page |