MEGADETH Warchest 4-CD/DVD set, EMI (2007)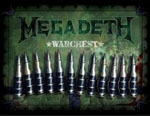 A complete collector's box, featuring 3 CDs of album tracks, hits and rarities, and effectively 2 live albums.
Mustaine himself says this is a crash course in, not just Megadeth, but also Metal. Actually, he's not far wrong. Megadeth were always at the trad metal end of mainstream thrash, but they did it so very well. While there will always be debates over track listings, the omission of 'Mary Jane' is unforgiveable. That said, disc 1 opens with 'Killing Is My Business' and takes us through many early tracks. Although Dave Mustaine and crew were a little rough back then, they were very fresh on the metal scene, making 'Peace Sells', 'Wake Up Dead' and 'Hook In My Mouth' essential listening, riffs and solos and all.
There are some previously unreleased demo versions, including 'Holy Wars', and an alternate take on 'Anarchy', all good stuff. The disc finishes with 'Hanger 18', which combines performance, production, tightness, freshness, riffs and lyrics to make what was perhaps Dave Mustaine's finest hour.
Another contender for that finest hour, 'Symphony Of Destruction' (What! No 'Countdown To Extinction? Travesty!), comes early on in disc 2. 'Go To Hell' (Bill & Ted soundtrack), a couple of demos and live tracks and a fair take on Black Sabbath's 'Paranoid' round things up nicely.
Now disc 3. While some of the later material is unfairly criticised, there is a mixed bag here. Tracks like 'Trust', 'Insomnia' and 'Crush'Em' (great 'South Bank Show style bass line) I love and are as good as the band got.
After a couple of dodgy covers ('Anarchy In The UK' best avoided, 'No More Mr Nice Guy' and 'Paranoid' were OK), one of Megadeth's finest ever moments was the live take on Sabbath's 'Never Say Die' (originally appeared on NIB II). Yes it's kinda by numbers, but it's so full of energy and power, it really demands to be checked out.
A pretty good start over these 3 discs, but for the fan and collector as well as an introduction they could have been split up as Hits, Singles and B-sides. Just a thought.
Disc 4 is a live set, recorded at Wembley Stadium, London 1990, while disc 5 is a DVD recorded live at Hammersmith 1992. Both capture Dave and crew at their peak, the twin guitars working well, Dave's vocals on form, and pretty essential track listings too. 'Hanger 18', 'Wake Up Dead' and 'Sweating Bullets' enough to have any metal fan drooling.
Thrash rarely got much better. Don't forget that throughout the 90s and 00s, Megadeth remained more consistent and actually better than Metallica.
****½
Review by Joe Geesin
---
| | |
| --- | --- |
| | Print this page in printer-friendly format |
| | Tell a friend about this page |