Just witnessed your best live gig?..send us a review!
MARILLION
Manchester Academy, 30 November 2007
Photo Gallery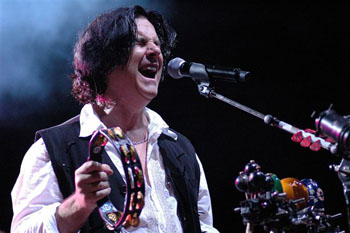 Steve Hogarth, photo: Lee Millward
It would appear that the Manchester Academy refurbishment programme has overrun slightly, judging by its external resemblance to a building site and temporary, outdoor, port-a-loos! Inside, fortunately, everything seems to be in working order and a good sized crowd is in attendance. No support band tonight, as Marillion are playing 2 sets.
Having neglected the band for almost 2 decades, I am unsure what to expect from them. Clearly, I have been missing out on a band that are full of confidence, with a large dedicated following, enjoy playing together, and are true masters of their craft.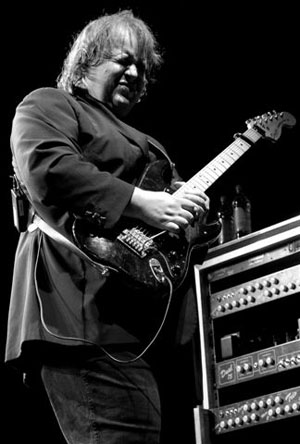 Steve Rothery, photo: Lee Millward
Steve Rothery effortlessly plays his guitars, making light work of even the most complex parts. Mark Kelly is, as he always was, a brilliant keyboard player. Ian Mosley was mostly hidden behind his drum kit for the entire set, but didn't miss a beat as far as I could tell. Pete Trewavas comes across as the joker in the pack, initiating a fair amount of intra-band conversation throughout, whilst continuing to lay down a perfect bass line. As for Steve Hogarth, with his bewildering array of maracas, tambourines, bells, chimes, loud hailer, pink guitar, and cricket bat... what a superb front man! Charismatic, energetic, amusing, highly entertaining, and a pretty good singer to boot.
They open the first "arty" half of the set with the opening 3 tracks of the 1994 album 'Brave' - 'Bridge', 'Living With The Big Lie', and 'Runaway', prompting Steve H to admit that most of their songs in the first half are about morose subjects, and promising that the second half would be more lively songs about… morose subjects. Every gap between songs is accompanied by cries of "Welcome home, Steve" or "Happy Christmas Steve" - which would appear to be some sort of ongoing saga between band and fans.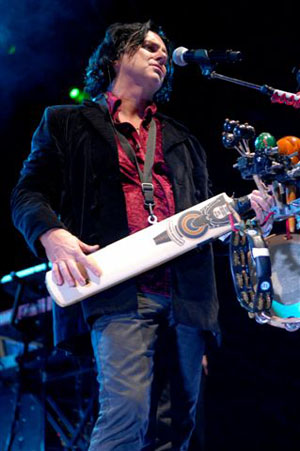 Steve Hogarth, photo: Lee Millward
I think I can quite honestly say that this is the first time I have ever seen a cricket bat played live by a rock band. This one is special though, being a "Hunts 'Ultimate Destroyer' Cricket Bat wireless MIDI Controller" that Steve H uses to produce weird and wonderful sounds from his MIDI devices. He also produces a pink guitar that draws many comments from the assembled faithful.
The first half of the set briefly delves into 2001's 'Anoraknophobia' and 1995's 'Afraid of Sunlight' before coming bang up to date with a brand new, unreleased song 'Real Tears for Sale'. This is received well, and is no doubt destined to appear on the next studio release. The title track of their most recent opus 'Somewhere Else' follows, before closing out the first half with the truly excellent 'Seasons End', title track of the first album recorded in the post-Fish era, all the way back in 1989.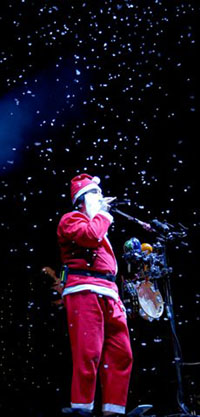 Father Christmas, photo: Lee Millward
A 15 minute intermission follows, with a screen set up on stage displaying some strange photos of the band, interspersed with silent movie style commentary and some jokes at the expense of various crew members.
Set 2 starts with the faster-paced 1989 single 'Hooks In You', followed by 'Genie' from 'Marbles' before showcasing 3 more songs from the latest album. Steve Rothery sports a twin neck headless guitar for parts of this set - not seen one like that before.
The title track of 1997's 'This Strange Engine' closes out the main set (fortunately without the 10 minutes of silence included). Encore time sees 'Quartz' from 'Anoraknophobia' and 'Neverland' from 'Marbles' get an airing, and a 2nd encore has Steve H returning to the stage dressed as Santa (it is still only November).
The front few rows of the audience are presented with (read: have thrown at them), expensive musical instruments (read: cheap plastic kazoos), and are encouraged to join the band in a rendition of a 'Let it Snow'/'White Christmas' medley - complete with fake snow.
Over 2 and a half hours from start to finish, but never felt like it, which is testament to the bands ability to entertain even when playing long proggy pieces about death!
Review by Ian Pollard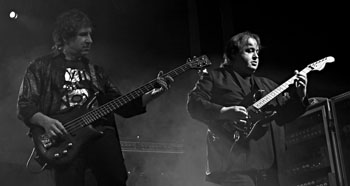 Pete Trewavas, Steve Rothery, photo: Ian Pollard
Set List:
Bridge
Living With the Big Lie
Runaway
The Fruit of the Wild Rose
Out of this World
Real Tears for Sale
Somewhere Else
Seasons End
INTERMISSION
Hooks In You
Genie
Circular Ride
Most Toys
Cannibal Surf Babe
The Other Half
This Strange Engine

Quartz Neverland
Let It Snow / White Christmas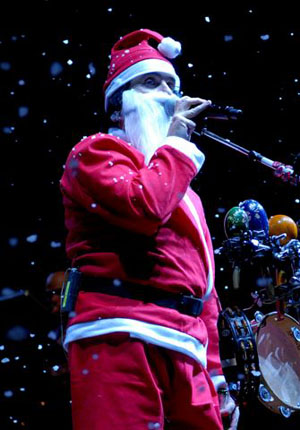 Father Christmas, photo: Lee Millward
---
Photo Gallery
Album review and interview

Gig Review (June 2007)


---
| | |
| --- | --- |
| | Print this page in printer-friendly format |
| | Tell a friend about this page |