MARCUS MALONE Hurricane Red Line 1811 (2007)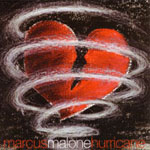 One time Detroit rocker Marcus Malone is now a classy UK based rock blueser who works hard on his new album 'Hurricane' to make the material compliment his fine vocals and effortless guitar playing.
Having sampled the dubious delights of the LA metal scene a few years ago, Marcus has gone back to his roots for his best album yet. And while there is an unmistakeable 70's feel to some this project, mainly because of his Paul Rodgers derivative vocal phrasing, there's enough stylistic diversity to drag 'Hurricane' into the realms of the contemporary.
And one of Marcus's talents is to segue one influence into another in the course of one song. So for example, while there's a Hendrix feel to the opening groove of 'Going Back To Detroit', he suddenly kicks into a majestic mid-number guitar sweep that climaxes is a high register whammy bar finale before the coda.
Marcus drags up the ghost of Paul Rogers' Free era on both 'Mean Mistreatin' Woman' - which is employs a muscular rock-blues groove that is twice punctuated by a tempo change - and the impressive 'Little Miss Know It All' which in spite of some retro lyrics, is an impressive restrained rocker that incorporates a recycled 'Smokestack Lightning' riff
But it's not all tough talk and guitar solo's, as Marcus delivers a brace of well crafted melodic ballads, with the radio friendly, gospel infused chorus of 'Be Still My Beating Heart' and the evocative love song 'A Taste of Your Love'. The latter is a beautiful meeting of acoustic guitar and combined voices.
More surprising still, is the closing call and response gospel outing of 'Round the Corner', which includes some cool picking. But you suspect the title track is where he's really at. The harp led, swampy excursion complete with a sonorous vocal line, mesmerising slide guitar and a relentless rhythm section is full of atmosphere and brooding lyrics - 'love is like a hurricane' - the stuff of film noir. And just to set the record straight, having impressed you with his compositional light and shade, he completes two bonus tracks with a straight ahead guitar led blues just to remind you of his undoubted ability as a guitar player. This is a classy album from a much underrated player.
****
Review by Pete Feenstra
---
| | |
| --- | --- |
| | Print this page in printer-friendly format |
| | Tell a friend about this page |