German gem from mid-seventies...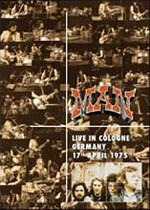 'Live in Cologne 75' finds the Welsh riff driven guitar band Man to be a suitably road tested outfit, even with the recently returned bass player Martin Ace back in the ranks.
Predictably with Ace replacing his more mellifluous processor Ken Whaley, Man's core sound had already become a shade harder. But it is the rock solid rhythm section of Terry Williams and Martin that gives both guitarist Micky Jones and Deke Leonard the platform on which to weave their magical spells. Listen to Micky's opening solo on the Deke penned '7171-551' and his first solo on 'Many Are Called But Few Get Up' and you realise you are in the presence of player whose touch, dexterity and tone mastery are exceptional, as he conjures up some magical psychedelic riffs.
One of the most underrated guitarists from the 70's Jones communicates in a guitar speak that is all his own, as Deke manfully adds an initial tough rhythm and then delivers his own gnarled edgy riff laden repost.
The number builds into a frenzy of echo reverb as Martin stomps all over the stage. Curiously the magnificent opening number elicits an eery silence from the audience who must have been slightly inhibited by their TV surroundings.
Micky adds more searing licks and some delightful slide as Deke switches to piano on the doomy 'Hard Way To Live' before Deke leads the band into an extended feverish psychedelic intro to 'C'Mon'. This grand opening salvo was later trimmed to being a Micky's solo spot, but here it is a great reminder of the spacier contours that coloured Man's hard rock epicentre. Mick's familiar funky riff intro follows before taking us on the kind of improvised journey that Grateful Dead would have been proud to call their own. As the number heads into the home straight Jones ironically shouts out 'guitar solo' as he slips into Zappa style angular mode for a few minutes of absolute bliss.
And is it with the extended 'C'Mon' that you inadvertently stumble on Man's career divide. While 'C'Mon' hails back to the late 60's west coast jam feel, things had hardened by '75 and the band themselves seemed divided as to which way to go, as evidenced by the stark contrasting playing style of Jones and Leonard. As it happens the tension is played out through some thrilling sparring and dynamic touches with Ace being the humorous conduit. For example Deke tries to introduce the new 'Someone is Calling' when Martin suddenly launches into a German diatribe about nothing in particular, save for a reference to the CDU party which generates some audience laughter. And after Deke has explained the opening to the newly reinstated bass man, it eventually proves to be another slide led cameo for Micky.
The band finally rock out on Deke's 'A Hard Way To Live' before closing with their then customary big chord, tub thumping 'Many Are Called But Few Get Up'.
As you would expect, this German TV special is an excellently filmed concert that catches a band playing some magnificent music against a background of revolving personnel and fast changing times.
****
Review by Peter Feenstra