Intense jazz rock experience...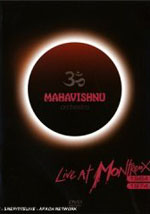 If, like me, your not that familiar with the jazz-rock pioneers Mahavishnu Orchestra then starting your investigation with this lengthy double DVD release may be too much of a jump into the unknown.
The first disc is dedicated to a 1984 appearance at the Montreaux Jazz Festival and captures a full, in concert set from the John McLaughlin-led band.
It's a somewhat more polished,smooth and indeed more stylistically varied performance than "Wings Of Karma" and "Hymn To Him", the two tracks feature on the second disc drawn from an earlier appearance at the famous event.
The inclusion of four audio only tracks from that 1974 performance are added to disc two meaning the whole package clocks in around three hours!
The footage captures what is more an impressive document of musical ability than eye-catching showmanship and after a while admiring the obvious technical expertise of the players and an array of sounds coaxed from some interesting and varied instruments I must admit my attention started to drift, leaving me to think that if I'm to 'get' Mahavishnu it will be through the medium of compact disc or even vinyl not DVD.
If youre already a convert, though, or indeed a follower from the outfits early days, then there's plenty here to interest you I'm sure. One for existing fans for sure.
***
Review by Bill Leslie