MAGAZINE/HOWARD DEVETO Reissues EMI (2007)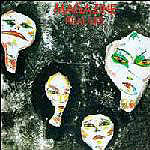 Centred around former Buzzcock Howard Deveto, Magazine were an important part of the punk and new wave movement in the late 70s.
Signing to Virgin and debuting in 1978, gone was some of the punk ethos, and in were keyboards and, as opener 'Definitive Gaze' on Real Life shows, an almost gothic sadness. Elements of punk, quirky pop, gothic, new wave, it's all here and on the surface may sound a disjointed, but there's some decent tunes here and clearly influential on so many subsequent genres.
'Shot By Both Sides' adds a touch of pub rock/rock'n'roll, and was a rather good single. Several singles and b-sides added too. ***½
Second album Secondhand Daylight followed in 1979. Opener 'Feed The Enemy' kicks off with and almost progressive keyboard intro before becoming a dark moody affair. The album continues well, a natural development from the debut. No wonder Radiohead see them as a major influence. ***½
1980 saw The Correct Use Of Soap; opener 'Because Your Frightened' is more guitar led, mixing Siouxie/Banshees with U2 and Big Country. At their quirkiest, there's a touch of the more serious end of Madness too. Good rock'n'roll bassline in 'Model Worker' too. ***½
1981's Magic, Murder And The Weather, issued shortly after Deveto had announced the band's demise, continued in a vein akin to the previous set. A touch of funk too.
A good development, stylewise the strongest, but a slight loss of edge and direction. The nod at Talking Heads doesn't come through enough to work. ***
All these albums come well packaged complete with bonus tracks, singles and b-sides.
1983 saw Deveto's debut solo album, Jerky Versions Of A Dream, with two Magazine members on board. Given the band's progression, this pop album could have been (with developments) Magazine's lost album. Lots of melodies, should have been a hit. ***
Six extra tracks, including a Peel Session, will please fans no end.
Review by Joe Geesin
---
| | |
| --- | --- |
| | Print this page in printer-friendly format |
| | Tell a friend about this page |