M3 Rough 'n' Ready Sanctuary (2007)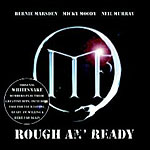 Classic Whitesnake, recorded live in 2004; M3 builds on the previous collaboration of guitarists Micky Moody and Bernie Marsden with bassist Neil Murray in Company Of Snakes.
The heart of the classic Whitesnake ere, and here they are as powerful and heavy as ever playing some damn fine blues rock. Not a perm in sight!
Featuring vocalist Stefan Berggren, drummer Jimmy Copley and Magnum pianist Mark Stanway, there's a run through of many a classic. And I really do mean classic. 'Walking In The Shadow Of The Blues' and 'Don't Break My Heart Again' kick off. 'Lonely Days Lonely Nights' is the first of four tracks to feature guest vocalist Dougie White (ex Rainbow et al).
While David Coverdale has introduced some of these songs into his Whitesnake setlist, there's little feel and even less blues. The performances here really do make you wish for a 1981 era reunion. Trust me.
'Slow An' Easy' is always a crowd pleaser, as are 'Fool For Your Loving', 'Ain't No Love In The Heart Of The City' and 'Here I Go Again'. Especially with Berggren's uncanny Coverdale vocal resemblance.
Living in the past, I know, but why mess with a winning formula?
****
Review by Joe Geesin
---
| | |
| --- | --- |
| | Print this page in printer-friendly format |
| | Tell a friend about this page |