ZEITKRATZER WITH LOU REED Metal Machine Music - Live Asphodel ASP3002 (2007)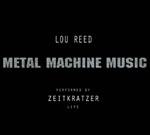 'Metal Machine Music' is the critic's ultimate nightmare. On the one hand there is the ever present suggestion of Lou Reed playing the role of 'the king with no clothes' – albeit the album got critically panned at the time – and on the other hand with the benefit of hindsight the album can be conceived in the broader context of both atonal and ambient music. In truth you pay your money you take your choice. And while 'Metal Machine Music' is not without plenty of interesting aspects, and can easily find a place in the left field avant garde music that has been populated by Glen Branca, Terry Riley in the US and by Fripp & Eno, and the droning minimal experimentation of the late Derek Bailey in the UK, it is the sort of album that acts as a reference point rather than an essential listen.
The really interesting thing about this album is the way the way the 12 piece Zeitkratze ensemble (including Reed on guitar), have both transcribed his original stoned experiments with guitar feedback into a mini orchestral setting played on traditional concert instruments. That said there is of course some unusual improvisation including off the wall percussion, and original sounds generated by prepared piano, and the unusual sight and sound of a string section muscularly working hard at maintaining a series of drones.
The transcribed 'Metal Machine Music' comes in both CD and DVD format, and it is the latter that provides the striking visual clues to the sometimes very subtle dénouements that pepper three suites of dense industrial drone music. And the whole project relies heavily on the recipient's sense of impressionistic tolerance.
Put simply unless you have an understanding of the Stockhausen/Webern school of atonality and you can fill in the dots that lead you to such contemporary figures as Sonic Youth, and the afore mentioned Glen Branca and perhaps David Vorhauss, then there is little to guide you and contextualise a piece of work that offers little in the way of thematic or melodic progression. The very minute changes in pitch and tone on Part One are supplemented by a percussive blast at the 12.45 minute mark, though of course, a quick scan of the accompanying DVD makes everything clearer. But taken as a piece of music without the visual ensemble dynamic, you have to say this is hard work.
It is of course well documented that upon its release, the album was dropped by Reed's label and most people thought it was a case of the artist sticking two fingers up at his record company. Much like John Cage's 'Silence' no one was sure whether this was a ground breaking piece of work or the opposite, though most tended towards the derogatory view.
What is clear is that this live recording of Reed's industrial sounding epic is by an ensemble committed to sonic freedom, who manage to conjure up unrelenting soundscapes full of power and menace through both sustained physical and mental concentration. And although we have no ultimate way of knowing, you sense they come close to the spontaneous essence of the feedback and sound loops alluded to in Lou Reed's DVD interview, in which he recalls the original twin guitar setting of his aural experiment in his loft.
But even with the avant garde time moves on apace, and Lou's appearance to round off the piece with guitar feedback sounds very tame by today's contemporary rock standards.
This hugely innovative performance of 'Metal Machine Music' by Zeitkratzer will undoubtedly once again stir up old debates, but on balance this fresh transcription brings a new dimension to what has for many been long regarded as one dimensional drone-led ambient music.
***
Review by Pete Feenstra
---
| | |
| --- | --- |
| | Print this page in printer-friendly format |
| | Tell a friend about this page |