LICK THE TINS Blind Man On A Flying Horse Talking Elephant TECD114 (2007)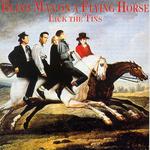 Lick the Tins missed the boat just round the mid 80's mark and 20 or so years on 'Blind Man on a Flying Horse' although a pleasant outing comes no closer to suggesting that the critical indifference was wrong at the time.
For all their pleasant Celtic undertones, and MOR folky songs, Lick the Tins were essentially too bland to be cutting edge Celtic rock, and the songs were simply not good enough to shift up a notch and trouble the likes of Moving Hearts at the time.
The album opens with an original take of 'Can't Help Falling in Love', and the idea of applying a similarly startling arrangement to 'Hey Joe' is interesting. But for the rest of the album there's too much attention being paid to commercial ends rather than letting the band's true musical spirit break through. And back in the mid 80's there was a new upsurge of Celtic related music from The Pogues to Poormouth but Lick the Tins were just a tad too lightweight, which is a shame because they do had some nice tunes.
Roan Heenan's 'In The Middle of the Night' - a number that someone should have given to Richard Thompson – remains the best of the lot, while the whistle led 'Lights Out' is a partial jig with a nice folksy feel. But perhaps the band's misguided efforts in finding their niche are best exemplified by 'Only a Year'. This melodic rocker open with some superfluous synth noodles before slipping into a lovely groove, topped by a repeated refrain 'Seems A Long Time' which surely should have been the title.
According to the knowledgeable liner notes by John Tobler, song writer Ronan Heenan was dismayed by the release of 'Belle of Belfast' - both the single and 12' releases are included here – and you can see why, as it reduces the band's melodic Celtic feel to pastiche.
If you didn't manage to catch the band the first time round, this is a pleasant introduction and with a bit of luck the band might still catch a bit of belated airplay on the reggae infused 'Here Comes Kali', but for the most part you can file under pleasant but forgettable.
***
Review by Pete Feenstra
---
| | |
| --- | --- |
| | Print this page in printer-friendly format |
| | Tell a friend about this page |