LAIKA DOG Mercury Enable Music (2007)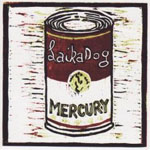 Laika Dog do exactly what it says on the tin, in as much as Terravision's front man Tony Wright uses his sabbatical from an unrelenting recording and touring schedule, to indulge himself in a side project that reconnects with his rock roots.
You get the feeling that this project almost lives and dies by the fact that it is the exact opposite of the well produced, polished and formulaic output that he seems so fed up with. In fact the nicely off kilter and even celebratory and gloriously shambolic feel perfectly fits a project that recalls the early days of the Quireboys and before them The Faces in its loose raunchiness.
But having set out his stall with a bunch of hometown friends who make up the rest of the band, Tony Wright isn't just about to throw it all away with a forgettable effort.
Far from it, Laika Dog launch into some delightful retro rocking that touches base with such unlikely space rock counterparts as Hawkwind on 'Best Learning Curve', and delves into the kind of long melodic guitar lines on 'By The Time I Got Back Home' favoured by purveyors of Southern rock.
There's also a Grungy edge to 'All the Things That Matter' and even a hint of a commercial feel on 'Hard To Explain'.
But it is with the timeless Stones influenced and Blur recycled 'Sympathy For The Devil 'wooh wooh' backing vocal refrain, that Laika Dog nail their glorious 70's influenced style to the mast.
Initially used effectively on 'Monkey Man' and then again on the closing 'Just Lately', Laika Dog close with an unashamed thinly disguised, wah wah laden romp through 70's retro rock. The closing cut is both a suitably brash finish to a warts and all live in the studio effort and an obvious album highlight.
****
Review by Pete Feenstra
---
| | |
| --- | --- |
| | Print this page in printer-friendly format |
| | Tell a friend about this page |