KULA SHAKER Strangefolk Strangefolk(2007)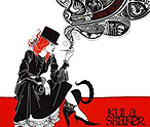 Kula Shaker came out of the blocks back in 1996 like a rabbit with a roman candle up its backside - their debut album K becoming the fastest selling debut since Oasis' Definitely Maybe. But their follow up, 1999's Peasants, Pigs And Astronauts (part recorded at David Gilmour's houseboat studio) failed to follow in its slipstream, stalled and the band crashed and burned, splitting before the year was out.
Since that time founder Crispin Mills has courted controversy with some ill informed and publicly stated views on the Nazi movement, 2002 saw a Best Of compilation, and the reformation of the band early in 2006. In a strange move, Strangefolk was released in Japan several months ago, while European markets got another Best Of comprising the first two albums plus some previously unreleased material (without the band's consent).
But for their fans - and there are plenty despite the band's miserly output - the wait is finally over and if early reaction is anything to go by, it looks as if Kula Shaker's career may finally be back on track.
Coming in at a welcome 70+ minutes running length and spanning 13 tracks it kicks off with Out On The Highway - a nod to the Oasis/Stone Roses style of melodic rock. It's a stonker. And hot on its heels is Second Sight which is like Very early Yes on steroids.
And those two tracks set the scene for what is a damn fine, semi retro rock album - plenty of Hammond, melotron, guitars and loud drums. There's the nods to Dylan (in his electric phase), and you wonder whether Great Dictator with the line 'I'm a dick, I'm a dick, I'm a dictator' is nod to his public faux paux.
As you'd expect Crispin hasn't lost the band's Indian connection with Indian chanting adding to another Stones Roses style groove on Song Of Love/Narvana.
Shadowlands is great melodic rock, as is Fool That I Am (more Beatles/Dylan reference points), while Hurricane Season could be Dylan. There's the odd oddities - Strangefolk and Ol' Jack Tar, but generally, the quality control is spot on. Plant could have recorded 6ft Down, while Super CB Operator closes the album with a large chunk of pop 'n' roll.
Strangefolk is likely to get panned in the indie press, but it's going to appeal to old and new Kula fans alike. It's simply a damn fine good time rock album - nothing more and nothing less.
****
Review by Pete Whalley
---
| | |
| --- | --- |
| | Print this page in printer-friendly format |
| | Tell a friend about this page |