Historic and poignant road trip for modern-day bluesman...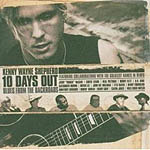 Modern day blues hero Kenny Wayne Shepherd took a 10-day road trip across America to meet, and play, with some legendary (and some less legendary) blues musicians while he can - sadly, since the film was made no fewer than 6 of the featured artists have passed away.
With a band including members of Stevie Ray Vaughan's Double Trouble you get to see Kenny with the likes of BB King and Etta James.
As entertaining as the music is, this film is a historical testament to the importance of blues and country music and the interviews we get to see really do show this.
The film ends with a concert featuring members of both Howlin' Wolf's band and Muddy Water's band.
***
Review by Nikk Gunns