DEFENDERS OF THE FAITH The True Story of Judas Priest Neil Daniels (Omnibus Press ISBN 978-1-84609-690-7) 2007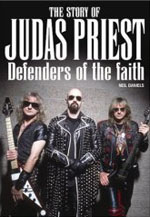 A very apt title. When it comes to heavy metal, no blues, no doom, no rock, no prog, just pure heavy metal, Judas Priest are the original and best. Some might say they still are. And they have certainly influenced more than anyone would care to admit.
From catchy metal riffs, pounding rhythms, anthemic choruses, screams, equally ludicrous clothes and videos; Judas Priest got all that into one song (think 'Breaking The Law'), and they're still going strong after more than 30 years.
So this unofficial biography goes a long way to telling the ins and outs of the band's history. Factually, it really is spot on, detailing may things well, from the pre Priest days, the bands formation to the American court case and the more unfortunate case surrounding drummer Dave Holland's incarceration.
And it's worth checking out the heavyweight appendices, which include a chronology, discography (including solo, guest appearances and non Priest work), and a pretty extensive list of all tour dates over the years.
The music is well known, something even the non metal fan should be familiar with - yes the band have become that mainstream, that successful, that influential, so there's no need to go into that further here.
GRTR's Joe Geesin quizzes author Neil Daniels

Why a book on Judas Priest?
They've been around for more than 30 years yet there hadn't been a book published about them that covered their entire history. The last English language book published was Steve Gett's enjoyable illustrated bio 'Heavy Duty' way back in 1984. That book was authorised and a bit lightweight so it didn't really cover the Al Atkins years in much detail, and similarly the band's controversial contract with Gull Records in the mid-70s. I wanted to write a book that told everything.

Also, it was convenient that when I proposed the idea for this book to Omnibus Press the band had announced plans for the as yet unreleased Nostradamus album and tour, so there couldn't have been a better time to publish 'Defenders Of The Faith' than now in 2007.

The reaction has been great so far with good reviews in some of the UK's best rock magazines and the reaction from the fans has been good too. Obviously, you always get some stinging comments but I'm pleased with the way the book has been treated.


Did it help being a fan to appreciate the history and the music?

Definitely. I could never imagine writing a book about a band that I didn't like. I think you have to appreciate Judas Priest's history (especially the early years) to understand much of their music. I mean, listen to songs like 'Runnin Wild' and 'Breaking The Law' and you can really gain a sense of the angst and frustration they felt growing up in the Black Country, post-World War II. The same can be said of Black Sabbath.

Like most bands they've made some patchy albums but there's always one or two good songs to be found. Take 'Ram It Down' for example; on the whole it's not a very good album but it does have 'Blood Red Skies.' Also, when you read around a subject (whether it be a band, singer, writer, director) you really begin to understand and appreciate their work even more. I'm a bigger fan having written this book than I was before I started researching in 2006.

Did the current band and management give a reason for not wanting to be involved?


To be truthful their reason for not wanting to be involved is a bit odd: they don't feel that it is the right time to publish a book. I disagree – what better time than now? There's 30 years of heavy metal to celebrate!

I was told that they'd been asked many times about participating in a rock biography but they'd always turned writer's down. Like buses, years have gone by without a book on Judas Priest but in 2007 there are three books published on the mighty Judas Priest. There's mine, Martin Popoff's and a German book by Matthias Mader. None of which are authorised.

I think with the band's cooperation I could have added a lot more anecdotes and back stage stories from their US tours in the 80s, but alas, I found it very difficult trying to get people to speak about that era. My main angle was the first 20 years of the band…which has never been written about in such detail before.


Which ex members were the most forthcoming?

Most of them were great: Al Atkins, Bruno Stapenhill, John Ellis, John Hinch, Ernie Chataway, Tim Owens and Simon Phillips. They have nothing to hide and were very friendly and communicative. I owe them a great deal of gratitude for their help because I may not have been able to do it otherwise. I would have liked to have interviewed Les Binks but he declined.


Who would you want to write about next?

My next book is a biography of Robert Plant, concentrating on his solo career. It will be published in February, 2008 through Independent Music Press.

I've just started ghost writing Al Atkins' autobiography for Iron Pages, which will be published in late 2008. Al has loads of entertaining stories that don't just revolve around Judas Priest; stories about the 60s Midlands music scene. It'll appeal to Priest fans and fans of 60s British rock music.

For further information visit my website: www.neildaniels.com

Largely well written, there is a strong emphasis (almost overly so) on the early years. This is in part to the involvement of original vocalist Al Atkins, who also writes a foreword. Later on, emphasis on detail is a little misguided. Case in point being the detail. Daniels has gone to track down Dave Holland. The publication of the letter of response (from Holland's jail cell) is welcome, as are the efforts, but details of those efforts are as unnecessary as some of the open / philosophical questions raised.
And for a book to remain factual, the introduction of opinions should be done sparingly and carefully. A personal gripe is the knocking of Tipton's solo work with John Entwistle and Cozy Powell in favour of Halford's irrelevant alternative metal period which, let's face it, was just pants.
A shame those currently in and close to the band distanced themselves, Judas Priest really could do with a full official biography, as long as not of the self congratulatory Classic Rock style. But that won't happen, and in its absence, this is as good and close as we're going to get.
Well researched, well written, it is however, short of fresh interviews.
Pretty much everything is covered, even if skimmed over.
Some colour, and band involvement, really would help though.
****
Review by Joe Geesin
---
| | |
| --- | --- |
| | Print this page in printer-friendly format |
| | Tell a friend about this page |