Just witnessed your best live gig?..send us a review!
JOURNEY
Manchester Apollo 7 March 2007
More than 25 years ago, my first live experience of Journey took place at this same venue. I remember that the band were huge in the USA at the time, yet they played to a largely empty venue. I also remember that Neal Schon had a huge 'Afro' hairstyle and that his eagerness to solo at every opportunity somewhat destroyed (as far as I was concerned) the poignancy of tunes such as 'Lights' and 'Lovin Touchin Squeezin' which were amongst my favourites at the time. Then last year, they appeared in a rather lowly position on the Monsters of Rock bill at Milton Keynes Bowl and their stunning performance led me to fall in love all over again with the kings of the Power Ballad.
While this show was not a complete sell-out like the preceding night, the venue was very comfortably full and the majority of the audience were in their seats when Danny Vaughn and his partner Tony Marshall appeared on stage with acoustic guitars and burst into song. Whilst I've been aware of Danny for some time I must say that I was not at all aware of his material and I was particularly stuck by his strong melodic voice.
With a new album 'Traveller' to promote, their short set of around 6 songs, was mainly culled from this and the debut Tyketto album 'Don't come Easy'. All received warm applause - particularly one or two of the Tyketto tunes and Danny apologised for having been taken by surprise by the reaction of the crowds on tour as he had sold out of CDs the night before and was anxiously awaiting fresh supplies. Whilst nothing ground-breaking, the set was an ideal warm-up for the main event.
Journey appeared on stage around 15 minutes later and went straight into a superb version of 'Jerusalem', Neal Schon's wailing guitar leading with the melody. While I've not always been a fan of Neal's style, I must admit to being completely bowled over by the arrangement of this classic tune and it certainly impressed the hell out of the audience who rose to their feet and stayed there throughout the rest of the show. The tune bridged into into 'Rubicon' which led into 'Stone In Love', each tune being played with a great deal of freshness and power. Indeed I had never expected to hear Journey sounding so 'heavy'.
One thing that was quite different to most gigs I attend was the high proportion of couples in the audience. As soon as the big hits were played, one could sense the audience lifted up. The ladies in the audience began to dance and sway, the men content to sing along, the whole place delighted to be getting the chance to hear the songs in a live setting. 'Ask the Lonely', my personal favourite 'Wheel in the Sky', 'Keep on Runnin' and 'Who's Cryin' Now' - it was a case of one big number after another making a fabulous first 30 minutes of the set.
Singer Jeff Scott Soto introduced 'Opened The Door' from '77's 'Infinity' album as one of his personal favourites before disappearing off stage for the first of a number of costume changes of the evening to leave keyboard player/guitarist Jonathan Cain to sing an even older song 'Mystery Mountain' from the band's debut album. Of course in those days the band were more of a Jazz/Prog/Fusion outfit, so the style certainly caught a few unawares and the slight change of style meant that the audience's energy level dropped a little at this time.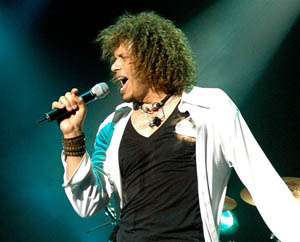 New vocalist Jeff Scott Soto is a bundle of energy and a master frontman, using all the tricks in his book to keep the audience involved. He dedicates 'Remember Me' to former singer Steve Augeri (who incidentally had also sung with Tyketto), chats to the audience about the football and later in the show appears in an England football shirt. Of course he can handle the Journey catalogue with ease too and his performance on 'Chain Reaction', 'Lights' and a scintillating 'Open Arms' makes one feel that he is completely at home with this band.
There is of course no end of vocal talent in this band and the setlist is usually arranged to allow one or more of them an opportunity to sing. In particular, the drummer, Dean Castrovano is no mean singer himself and usually handles the lead vocals on a number of songs (while still giving his drums a hell of a pounding). But unfortunately on this occasion he was suffering with congestion and was restricted to just singing 'Still They Ride' and helping out on backing vocals.
By this stage the band were all warmed up and ready to jam. Neal Schon had taken every opportunity to demonstrate his talents, but it wasn't until 'La Da Do' from 'Infinity' that Ross Valory on bass and Dean Castrovano on drums got the chance to shine. Then after a couple of further tunes, the band broke out into a 'blues jam' during which Jonathon Cain's harmonica duelled with Neal Schon's guitar. Such 'jams' apparently go down very well with the American audience, but I, for one, felt that there was something a little less than spontaneous about it and one could sense the audience's attention wavering. Even Jeff's announcement that Man Utd had won their Champions League match against Lille fell flat. "I didn't too many cheers for that", he said, slightly surprised, as the band moved into 'Lovin' Touchin' Squeezin'.
However, with such a catalogue of hits, we knew we were never going to be more than a couple of songs away from a major hit and the band brought them all out to produce a fantastic finish to the set. 'Escape', and 'Where were you?' were well received, but the final trio of 'Faithfully', 'Don't Stop Believin' and 'Anyway you want it' once again had the audience singing along and rocking in the aisles. The emotion was there on the faces of many in the crowd and as the band left the stage and the venue was plunged into darkness, the crowd clapped and cheered long and hard for their return.
The final number of 'Separate Ways' made an excellent set closer before the band took their final bow and the crowd disappeared into the night.
All in all it was an excellent show, even if it went a little flat in the middle, but one has to appreciate that the band have been changing the setlist a little every night, in an attempt to please all of their fans. Jeff Scott Soto seems to have taken to his new job like a duck to water and really knows how to control an audience. Journey as a band, seem to be a vibrant unit again and must be delighted with the response that they've received from the UK Public. Let's hope that tours like this one become a regular event.
Review by Charlie Farrell
All photos ©2007 Lee Millward/GRTR!
All rights reserved.
Ross Valory interview and more photos
---
| | |
| --- | --- |
| | Print this page in printer-friendly format |
| | Tell a friend about this page |