Just witnessed your best live gig?..send us a review!
JONNY LANG
Jacksonville, Florida May 2007
Having reviewed bluesman Joe Bonamassa a few months ago, I was excited to see Jonny Lang take the same Florida Theater stage tonight. Being a musical prodigy comes with the stigma of living up to expectations of greatness. Since God gave you this gift and the ability to apply it at such an early age, you must be on the road to painting the Sistine Chapel (figuratively speaking of course).
More often than not, this expectation is rarely met these days and leaves the fans somewhat disillusioned in the faith that led them to placing this person on a pedestal.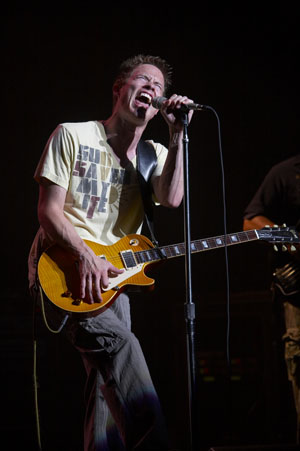 Opening the show with 'One Person at a Time', Lang proved right away that he'd let no one down this evening. 'Bump In The Road' off his current 'Turn Around' CD was next leading right into an extended version of the title track 'Turn Around' which blew me away.
I have been a photographer for more years than I care to admit and I've shot rock stars from Paul Rodgers to Chris Daughtry. Nothing makes me more happy than capturing the emotion and personality of a performing artist. Having said that, Last night I was in heaven!
Let me be clear, Jonny Lang is not GQ material however, his emotive expressions when on the stage and especially mid-lead are second to none. It's as if his pain and adulation starts at the top of his head and runs down his face, through his flexed arms, straight into his pick and fingers and the results of this intensity is pure musical joy.
I never thought for a minute that he'd trump Joe Bonamassa and while we're on the subject, what I'd give to see them share the stage trading off riffs and vocals! Tonight is was spiritual.
Dressed comfortably in a pair of grey cargo pants and a 'Sun Saved My Life' T-shirt with shortly cropped hair (his long blonde locks from his teen years are long gone) stepped to the microphone and vocally preached his soul on songs from his growing catalog.
Torching the theater with songs as the fiery "A Quitter Never Wins" off of his Lie To Me CD and also the well known radio tune "Red Light", Lang kept the audience of over 1200 on their feet.
He delivered a very dynamic and well arranged version of Stevie Wonder's 'In The City' and just when you thought the song was over, Tommy Barbarella on keyboards resurrected the bottom and gave backup singer and Nashville native, Jason Eskridge a turn in the spotlight as he turned out a well received and appreciated vocal injection of soul that Mr. Wonder himself would enjoy.
The ego-less Lang, stepped into the shadows to feature each member of his band and allow them to enjoy their earned place on the stage with one of our generations great musician's musician. With Jon Herchert on supporting guitar, Jim Anton on Bass and Barry Alexander on drums, Jonny Lang had the perfect setup for his ingenious repertoire.
Ending his set with 'I Am' nobody fell for the cliché Goodnight before the 5 minute re-emergence for an encore which began with 'Anything's Possible', 'Breakin Me' and ending with a well anticipated knock down, drag out version of 'Lie To Me'.
Having found God and cleaned up after his bout with various substance abuse problems and now happily married, opportunities to see Jonny Lang should be plentiful: however, in this world ranging from poverty and uncertainty to concrete abundance, when Mr. Lang visits your town, purchase a ticket and get ready for a spiritual experience.
Review and photo by Steve Janowicz
---
| | |
| --- | --- |
| | Print this page in printer-friendly format |
| | Tell a friend about this page |