JOE JACKSON Rain Rykodisc 10921A (2007)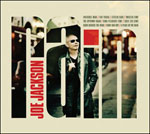 Joe Jackson has never cosily fitted into any one genre. Even at the very outset of his career at the height of Punk the New Wave label never sat easily with an artist whose lyrics were more about relationship and observations than outpourings of anger and frustration. And so it is with 'Rain' his 23rd album, as he revisits his jazzy pop niche in stripped down format in the company of three of the original JJ Band.
It's always a measure of an artist's enduring quality that no matter which musical direction they pursue - and Joe has been through the card from big band Jazz to Swing Blues and Reggae - there's always an identifiable characteristic that marks out their work as being definably theirs. On 'Rain' Joe continues the trio format he embraces around 2004 to explore a handful of impressive jazzy tinged, tightly arranged piano led outings.
From the opening soaring vocal intro Joe exudes a confidence that permeates every aspect of this impressive album. Perhaps the only blemish is the occasional moments when the piano led numbers become a trifle laboured and when he tries a little too hard to maintain the high standards he sets himself on the musically urgent and light lyrical humour of the opening 'The Invisible Man', and the waltz time 'A Place in The Rain'.
On the soulful 'The Uptown Train', he evokes Cannonball Adderley's 'Mercy Mercy Mercy', but adds a beautifully soulful falsetto to take the song in a completely different direction. And just over the half way mark he ups the tempo on 'King Pleasure'. But by limiting himself to the classical jazz line-up of piano bass and drums, he sometimes slips into something of a trough that an outside producer might have avoided.
On 'Citizen Sane' for example, Joe comes up with great melody line, and a song that would undoubtedly have benefited from a more expansive production, but then again outside of his big band albums, minimalism has been an integral part of his recording career. Yet there are moments when the format drags a little such as on almost self indulgent 'Solo (So Low)' and the almost Coldplay melancholy of 'Wasted Time', which is saved by a clever mix of falsetto and an effective stop time chorus.
On 'Rush Across the Road' Joe explores a Jackson Brown ballad style without quite having the vocal range to carry it off. But the delightful opening piano embellishment and the clarity of the arrangement ultimately make it a triumph.
These are minor blimps on an otherwise blossoming musical landscape that cleverly marries a jazzy feel with some soulful pop sensibilities. Joe seems to have soaked up enough of the sophisticated jazz feel in his New York exile to become a dab hand at some clever arrangements that underpin both his lyrical meaning and punctuate his simple but effect melodies.
There's a belated return to his early career punky power pop on the whirlwind 'Good Bad Boy' which cleverly uses a lighting fast chorus and over some dexterous piano playing. In fact 'Rain' just about showcases just something for everyone. And as long as you can handle the stripped down format, there is much to admire by an ever creative song writer with a knack for making lyrics seem like a natural musical extension of his trio format.
****
Review by Pete Feenstra
---
| | |
| --- | --- |
| | Print this page in printer-friendly format |
| | Tell a friend about this page |