JIMMY EAT WORLD Reissues EMI (2007)

Perhaps I'm living in a time warp (yes, music never has got any better than the 1970's, although there was a brief spell of 'big hair' rock that was pretty damn good), but does a band like Jimmy Eat World, which let's face it are hardly a household name, really merit a series of reissues?

But then being cynical, digging a few bonus tracks out of the vaults is always good for business. Although ironically - and going off the subject completely - I see they're now starting to release re-issues with the bonus tracks taken off so the album is 'as originally intended' and with enhanced artwork (Elvis Costello). So you buy an album once, buy it again when's been remastered with bonus tracks, and then buy it a third time. And of course, 5.1 has still to get a widespread foothold. Sounds like a rip off to me, but then record corporates are having a hard time of it fiscally, so the dollars have to be brought in by whatever means are possible.

Anyway, back to Jimmy Eat World, who for some reason I thought were a Scottish band (which just goes to show how ignorant it is easy to be), who it turns out are from Arizona and nowhere near Glasgow.

Formed back in 1993 and purveyors of what was commonly known as 'emocore' (or emotional hardcore) their debut Static Prevails was released 1996 and was essentially an aggressive pop, punk fuelled album, not wholly unlike the grunge sound of Nirvana.

Certainly it's a sound that is still prevalent today. In its shiny new coat it now sports two bonus tracks handpicked by the band - 77 Satellites and What Would I Say To You Now. ***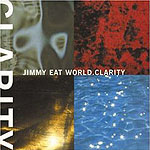 Allowed to ferment naturally in the indie scene, the band returned to the studio in 1995 to record what would become their breakthrough album - Clarity. It was an album that set them apart from other post-grunge rock bands with the addition of poppy melodies, strings, chimes, piano and tight harmony vocals to their punk influenced emocore sound.
With the songs alternating between hypnotic and hard rock, the album is altogether less raw than its predecessor and propelled the band to another level, but one that never really traversed the Atlantic or elevated the band sufficiently to prevent them being axed by their record label. But time has served it kindly and it's worn rather well, being distinctly more accessible than their debut. Again a couple of carrots are dangled to attract sales for this 'expanded version'. Namely another 2 (seems a bit miserly) bonus tracks - Christmas Card and Sweetness (a previously unreleased demo). ***½
As with a lot of reissues, perhaps difficult to see where the sales will come from. I'd think long and hard about replacing original copies for the sake of less than a handful of bonus tracks, especially as there's no mention of any remastering. As they say in all the best 'For Sale' columns, 'buyer beware'.
Review by Pete Whalley
---
| | |
| --- | --- |
| | Print this page in printer-friendly format |
| | Tell a friend about this page |