Formidable Monsieur Pop...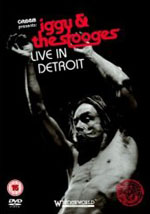 This a cracking stuff! Recorded back in 2003, in front of a raucous home town Detroit crowd, this is one rock & roll re-union that fully justifies the hype. When you think about it, Iggy Pop - if not the Stooges - had a lot to lose.
Given the travails of his early career, and his subsequent startling solo success anything less than a great show might have blown the whole mystique that has surrounded these early purveyors of Garage Punk. After all it was only via the small bits of copy in the now mostly defunct UK music press that we heard about Iggy in the first place, and were it not for David Bowie, the whole Iggy phenomenon might have by passed the UK.
So step right up, guitarist Ron Asheton and brother Steve on drums, who ably assisted by the metronomic Minute Man Mike Watts on bass, and the honking Steve Mckay on sax, blast their way though material from the Stooges first two albums.
Overlooking the fact that it was the band's third album 'Raw Power' that actually gained them credibility, there's enough raw power, bone shuddering riffs and OTT physical theatre from Iggy in front of a wild home town audience to satisfy any doubters.
What makes this DVD release so vital aside from the previously lack of footage of this seminal band, is that once the rock and roll party is finally over, the three original members play an in store rendition of most of the set, complete with Iggy's cogent explanations of the songs meaning and origins. Significantly the additional closing footage of various Iggy's contemporaries merely demonstrates just what a real iconic performer he is.
From the off, he unleashes himself into a frenzy that barely 90 seconds later leads him to the lip of the stage and into the darkness, only to return centre stage for a bout of idiot dancing, and subsequent simulated copulation on top of the bass amps. In the process of working himself into a frenzy on '(Now) I Wanna Be Your Dog' he actually reminds everyone just where Ozzie got his stage movements and perfunctory swearing from. Guitarist Ron Asheton also goes through the full gamut of licks, firing off some crucial riffs in front of an oversized stack of Marshall amps on '1969', which is essentially a prototype punk song.
'TV Eye' which Iggy later explains in the in-store gig, came from the CBS logo on TV, which put him in mind of Orwell's Big Brother warnings, is a scorching rocker played partly to a blacked out crowd at Iggy's insistence.
By the time of 'Real Cool Time' the barricades come down and one hugely overweight fan lumbers on the stage, and Iggy seizing the moment calls for the security to let more fans on stage. The following ten minute plus audience freak out is the only concession to anything remotely retro and is presumably as close as you will get to what an Iggy Pop show must have been like back in the early 70's. With mayhem all around he segues into another Punk connected song, 'No Fun', which was last song the Sex Pistols ever played.
While he may be older, wiser, and certainly in better, nay remarkable physical shape, just like Jagger, Monsieur Pop still needs an audience to feed off, and by God they don't come much more raucous than this on what must have been an incredible gig to have been at. An essential purchase for Pop and rock fans alike.
****
Review by Pete Feenstra