THE IDLE RACE Back To The Story EMI (2007)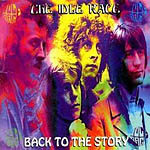 A two CD set that encompasses all of this 60's bands output. Idle Race are best known as the band that formed from Mike Sheridan & the Nightriders and featured on guitar/vocals future ELO main man Jeff Lynne.
This album has been out before in 1996 although this mid-price re-issue drops the two Nightrider tracks.
This really is a collectors/completists release as an ELO fan will find this tough going at times unless you like psychedelic. That said there are some pop gems on here including the Move like 'Here We Go Round The Lemon Tree', 'The Birthday' which wouldn't look out of place on the first two ELO albums and 'Follow Me Follow' with its string backing, an early forerunner of the classic ELO string sound to come.
Some great English whimsy like 'Lucky Man' and 'Mr Crow And Sir Norman'. Worth listening to the band's version of 'In The Summertime' as well, which was a big hit for Mungo Jerry.
Definitely of interest to fans of late 60's psychedelic pop music and ELO/Move collectors, although the latter will doubtless have bought this CD on its first release.
***
Review by Jason Ritchie
---
| | |
| --- | --- |
| | Print this page in printer-friendly format |
| | Tell a friend about this page |